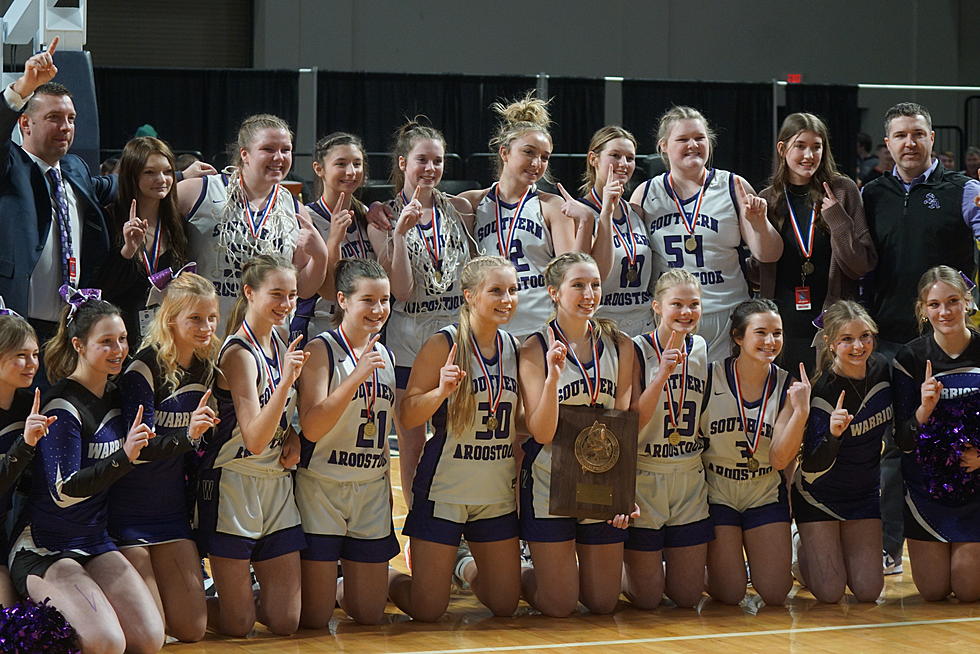 #1 Southern Aroostook Nips #2 Wisdom 53-49 to Win Class D North Regional Finals [STATS & PHOTOS]
Southern Aroostook-Wisdom Girls Class D North Finals February 25, 2023 Photo Chris Popper
For the 5th year in a row (excluding 2020 when there was no Tourney because of COVID) the Southern Aroostook Warriors will be playing in the State Championship Game, after nipping Wisdom 53-49 on Saturday morning, February 25th in the Class D North Regional Finals.
The game was tied at 49-49 with a minute left. When Southern Aroostook stole a pass and Ally Shields scored on the layup the Warriors led 51-49. Madison Russell then sank 2 free throws with 1.3 seconds left for the insurance points.
Southern Aroostook led 15-14 at the end of the 1st Quarter and 29-26 at the end of the 1st Half.  They led 42-37 after the 3rd Quarter.
Southern Aroostook was led by Madison Russell with 16 points including a 3-pointer. Emmalee Landry had 13 points with a 3-pointer and Cami Shields had 11 points. The Warriors were 6-9 from the free throw line.
Wisdom was led by Lily Roy with 19 points including 2 3-pointers. Olivia Ouellette had 11 points and Av Lerman had 10 points with a 2-pointer. Alexis Silva had 3 3-pointers. The Pioneers were 7-10 from the free throw line.
Wisdom's season comes to an end with a 20-1 record.
Southern Aroostook is now 18-3. They will play the Class D South winner (Valley or Seacoast Christian) in the Class D State Final on Saturday, March 4th at 1:05 p.m. in Bangor at the Cross Insurance Center.
Line Score
| | | | | | |
| --- | --- | --- | --- | --- | --- |
| | 1 | 2 | 3 | 4 | T |
| Wisdom Girls | 14 | 12 | 11 | 12 | 49 |
| Southern Aroostook Girls | 15 | 14 | 13 | 11 | 53 |
Box Score
Wisdom
| | | | | | |
| --- | --- | --- | --- | --- | --- |
| Name | PTS | 2PM | 3PM | FTM | FTA |
| Abbie Lerman | 0 | - | - | - | - |
| Lily Roy | 19 | 4 | 2 | 5 | 6 |
| Ava Lerman | 10 | 3 | 1 | 1 | 2 |
| Kamryn Clavette | 0 | - | - | - | - |
| Alexis Silva | 9 | - | 3 | - | - |
| Collen Thamsen | 0 | - | - | - | - |
| Kayleigh Michaud | 0 | - | - | - | - |
| Kylie Pelletier | 0 | - | - | - | - |
| Kelsie Daigle | 0 | - | - | - | - |
| Olivia Ouellette | 11 | 5 | - | 1 | 2 |
| TEAM | 0 | - | - | - | - |
| TOTALS | 49 | 12 | 6 | 7 | 10 |
Southern Aroostook
| | | | | | |
| --- | --- | --- | --- | --- | --- |
| Name | PTS | 2PM | 3PM | FTM | FTA |
| Hannah McGary | 0 | - | - | - | - |
| Olivia Ellingwood | 0 | - | - | - | - |
| Emmalee Landry | 13 | 5 | 1 | - | - |
| Ally Shields | 6 | 2 | - | 2 | 5 |
| Madison Russell | 16 | 5 | 1 | 3 | 3 |
| Emma Stubbs | 0 | - | - | - | - |
| Lexi Rackliff | 0 | - | - | - | - |
| Jazmyn Ellingwood | 0 | - | - | - | - |
| Madison Shields | 3 | - | 1 | - | - |
| Cami Shields | 11 | 5 | - | 1 | 1 |
| Callie  Russell | 4 | 2 | - | - | - |
| Libby Anderson | 0 | - | - | - | - |
| TEAM | 0 | - | - | - | - |
| TOTALS | 53 | 19 | 3 | 6 | 9 |
Check out the photos from the game
Southern Aroostook - Wisdom Class D North Regional Finals
Southern Aroostook took on Wisdom in the the Class D North Regional Finals on Saturday morning, February 25th