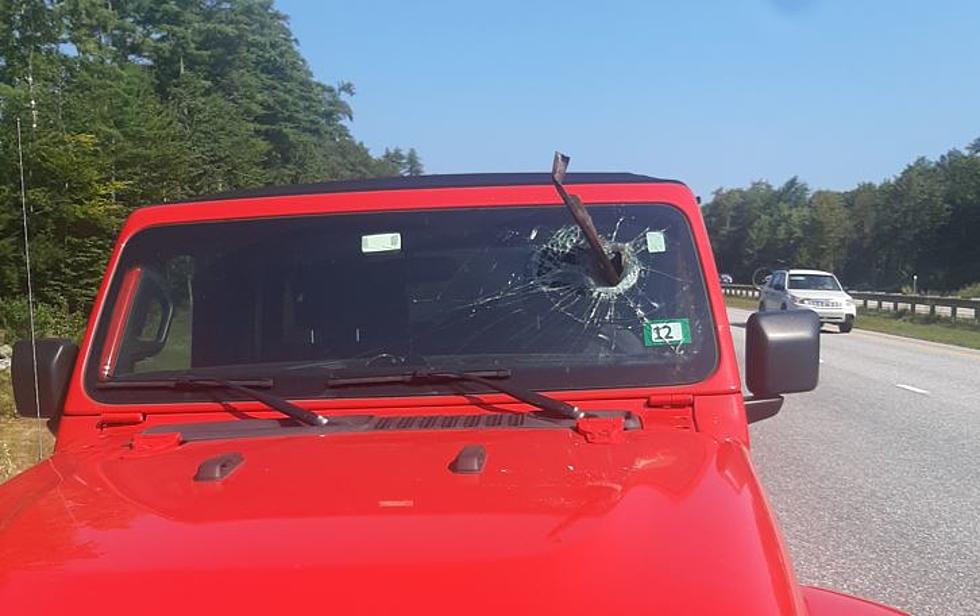 Woman Injured after Metal Debris Stuck in her Windshield on I-95 in Maine
Maine State Police
A 21-year-old woman was almost hit by a piece of metal Tuesday on I-95 when the sharp debris stuck in her windshield, just inches from her face.
Metal Debris Stuck in Windshield on I-95
The Maine State Police said the incident happened around 10:20 am near mile marker 61 on the Maine Turnpike in Gray.
Sharp Piece of Metal Impaled the Windshield
Shannon Moss, Public Information Officer, Maine Department of Public Safety said the New Hampshire woman was heading southbound "when a vehicle traveling in the same direction in front of her ran over and kicked up a piece of metal road debris into the air. The sharp metal struck the windshield of her 2021 red Jeep Wrangler where it impaled itself only inches from her face." The woman's name was not released.
Driver had Minor Injuries
She was able to pull over to the side of the roadway safely. She suffered minor injuries and was checked by paramedics at the scene, said Moss.
First Responders on the Scene
One lane of traffic was shut down for close to an hour. The Maine State Police were assisted by the Maine Turnpike Authority and Gray Fire and Rescue.
LOOK: The longest highways in America