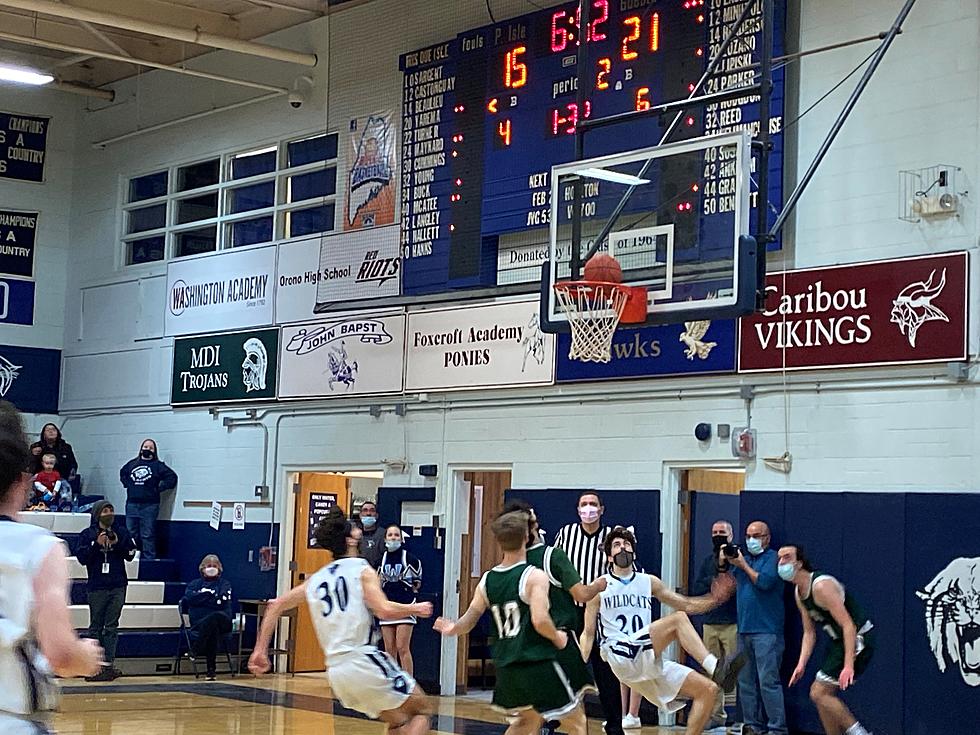 Presque Isle Escapes Upset From MDI in OT; Recap, Scoring, & Pics
Jeff Clockedile
The Presque Isle Wildcats took on the MDI Trojans on Thursday evening in Class B North boys basketball action. This game was scheduled to be played on Saturday but was moved up to Thursday due to the impending weather this weekend.
Coming into the game Presque Isle had a 7-5 record and #5 in Class B North, while MDI came in at 2-10 and #13 in Class B. On December 23 Presque Isle traveled to MDI and came from behind to win the closing seconds 50-48.  
1st Quarter
MDI's offense came out strong and Presque Isle had a difficult time slowing the Trojans attack. Noah Yarema of the Wildcats established his offensive presence early, putting in 6 points. Malachi Cummings, Xavier McAtee, and Jackson Maynard each scored 2 points apiece, with Jack Buck adding one free-throw. MDI led 19-13 after the first quarter. 
2nd Quarter 
Yarema continued his offensive dominance in the second quarter, and he received help from McAtee. The two forwards combined for 17 points in the quarter for Presque Isle with Yarema scoring 9 points and McAtee scoring 8 points. Cummings added 4 points and Buck scored 2 points for Presque Isle, who led 36-33 going into halftime.
3rd Quarter
MDI turned up the defensive pressure in the third quarter, holding Presque Isle to just 8 points as a team. Xavier McAtee led the Wildcats with 4 points, with Cummings and Jack Hallett each scoring 2 points. The Trojans used a balanced attack on offense with 6 players scoring and giving MDI a 48-44 lead at the end of the third quarter. 
4th Quarter 
MDI held the lead until Presque Isle came back to tie the game with 5 minutes to go in the quarter. The two teams would go back-and-forth for the remainder of the fourth quarter. The game was tied at 61 as the clock went under 1 minute. Noah Yarema put the Wildcats ahead with a bucket with 40 seconds remaining. He led Presque Isle with 8 points in the quarter, and Cummings scored 6 points. Jackson Maynard scored 5 points with McAtee scored 2 points and grabbing several huge rebounds. With 21 seconds left Cummings made (2) free throws to make it a 3-point lead. As time was winding down MDI's AJ Lozano hit a three-point field goal with 1.3 seconds on the clock to tie the game 65-65 and sending the game to overtime. 
Overtime
Presque Isle was able to take control in the overtime period and outlasted MDI. The Wildcats were able to build a lead up to 5 points before the Trojans got it back down to a 2-point game with under 90 seconds. The Wildcats made enough free-throws and escape an upset bid by MDI.  Presque Isle won by a final score of 77-73. 
Up Next 
Presque Isle will travel on Friday to take on Ellsworth, and MDI will be hosting the Caribou Vikings.
Presque Isle MDI Boys Basketball 1-27-22
Pictures from the MDI at Presque Isle Wildcats game on January 27. Presque Isle won in overtime 77-73
Images of the Week From High School Basketball
Images from around Aroostook County from the past week.