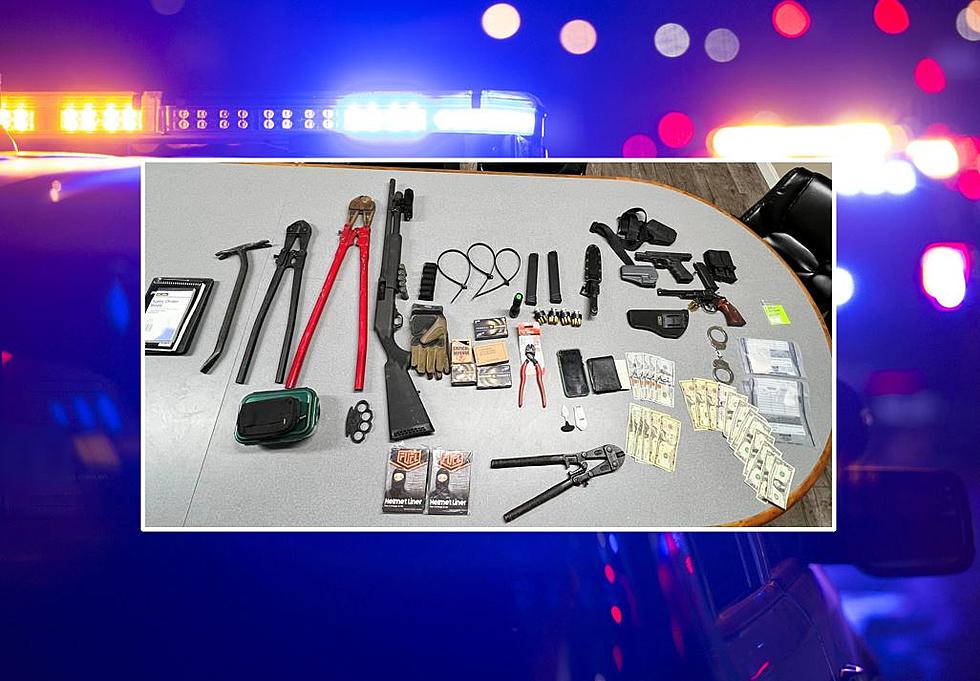 Two Maine Men Arrested after Head-On Crash and Drugs & Contraband Seized
Lincoln Police, Thinkstock
Two men were arrested after crashing Wednesday night in Lincoln and drugs, guns, zip ties, handcuffs and other items seized. The head-on crash happened around 9:30 pm on Maine Street.
Two Men Arrested after Head-On Crash
Officers arrested 34-year-old Christopher Mitchell and 44-year-old Matthew Vandine.
Bail Conditions for Search
Police said "Mitchell was found to have three sets of bail conditions with two of the conditions stating he was not allowed to "use or possess dangerous weapons or firearms" and could be searched "upon articulable suspicion."
Suspect was a Felon
Police also determined that Vandine was a felon.
Drugs, Guns, Handcuffs and More Seized
The Lincoln Police Department said, "Ofc. M. Winslow searched the interior of the truck and located a loaded Glock 40 caliber handgun, various types of ammunition, a large knife, 2 black ski masks, speed loaders for a revolver, a loaded revolver, zip tie style handcuffs, a drug kit with glass pipes and tourniquet, three notebooks with multiple pages of notes referring to tactical gear, GPS, maps, and camouflage clothing. Additionally, a loaded 12 Gauge shotgun with a tactical flashlight mounted to the barrel, one set of metal handcuffs, brass knuckles and a small knife was located throughout the vehicle."
Drugs and Suspected Proceeds Seized
Police also said "Matthew Vandine was arrested and charged with Possession of a Firearm by a Prohibited Person and Possession of Schedule W drugs. While searching Vandine he was found to be in possession of a plastic bag which contained a grayish powder. When asked, he stated he didn't know what it was but figured it was heroin or a mix of heroin and fentanyl which was later weighed and found to weigh approximately 23 grams. Additionally, his wallet contained $643.00 in cash and a small plastic bag containing approximately 2 grams of a white crystal substance which is suspected to be methamphetamine."
County Jail
They were both taken to the Penobscot County Jail. The investigation is ongoing and additional charges are expected.
LOOK: Longest-living dog breeds
LOOK: The most popular dog names of 2022 in every state
Hey dog lovers, check out this awesome list of the most popular dog names in 2022 for every state, and get ready for some serious cuteness overload.