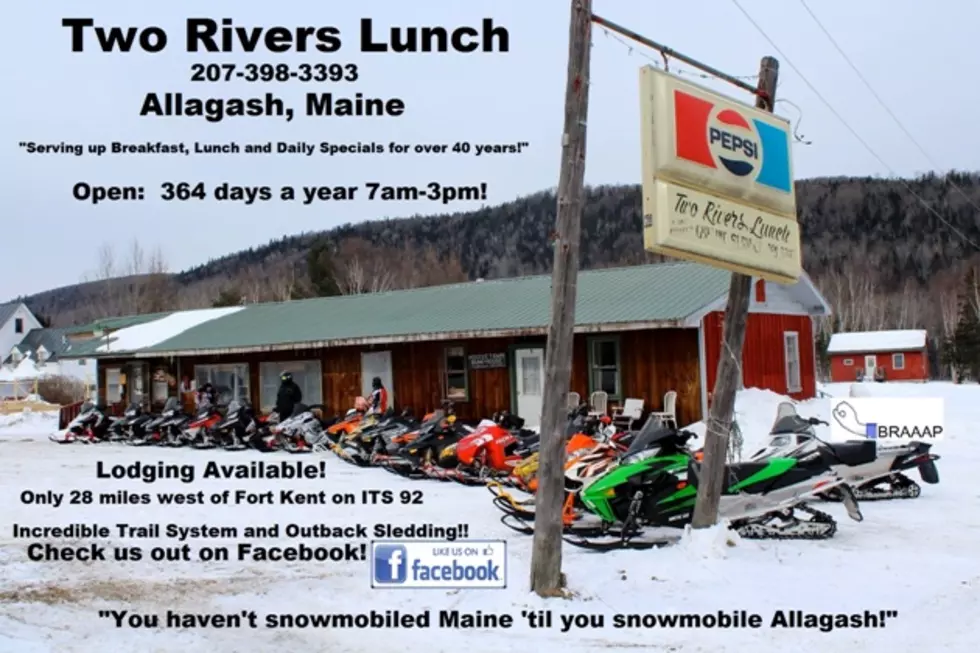 New Ventures Maine Awards Marketing Mini Grants
New Ventures Maine
New Ventures Maine, announced the winners of its Marketing Mini-grant competition for small businesses in Aroostook County.
Two awardees were selected from a strong group of applicants throughout Aroostook County.
Two Rivers Lunch at 75 Dickey Road in Allagash received an award of $200. Conveniently located at the confluence of the Allagash and St John Rivers, provides not only scrumptious fare from our fantastic restaurant but an atmosphere many travel hundreds of miles to visit each year. They have locals and folks that travel to the Allagash Wilderness area in the restaurant throughout the year and are able to provide a great stop for those who journey through the Allagash. Quality fare is made to order on site by local chefs. The marketing mini-grant will help them update and upgrade their road side signage with a hand painted sign by local artist, Mary Beth Jackson. This project will better reflect their image and create greater visibility for folks in search of great eats in the area.
Stumpy Acres Farm at 106 Mouse Island Road in Perham received an award of $200. With a mission to farm naturally, sustainably, and humanely, they currently raise Scottish Highland Cattle for both beef and breeding stock. Beef is sold by the animal and they offer cuts from the freezer. Many of the animals are registered with the American Scottish Highland Association.  The marketing mini grant will help them acquire a professionally designed logo and sign for the farm. This will assist in both name recognition and clarity to those passing by their location. Currently advertising only by word of mouth, this will allow them to promote their brand in a more professional manner.
Kim Jones, Director of Employer U and Assistant Professor of Business Management for the University of Maine at Presque Isle served on the grant review committee, lending her expertise to the review process. "I think the mini grants offer area business owners a great opportunity to access funds to help improve and grow their business.  While it's not a huge sum of money, it can certainly make the difference in starting and/or completing those workplace projects that might otherwise not get done.  The application process is simple and the selection is done in a way that is fair and takes into consideration the impact of the funds on the overall business."
New Ventures Maine's Marketing Mini-grant criteria included having five or fewer employees, gross annual sales of $250,000 or less, and articulating a compelling marketing project to support business growth. Support for NVME's mini-grants program was provided in part from The Betterment Fund.
For more information on marketing mini-grants as well as other programs, classes, and resources for small businesses, visit newventuresmaine.org or call 1-800-442-2092 to find the center closest to you.
This information was submitted to us as part of a press release. If you would like to share your community news or event with our audience, please email newspi@townsquaremedia.com.