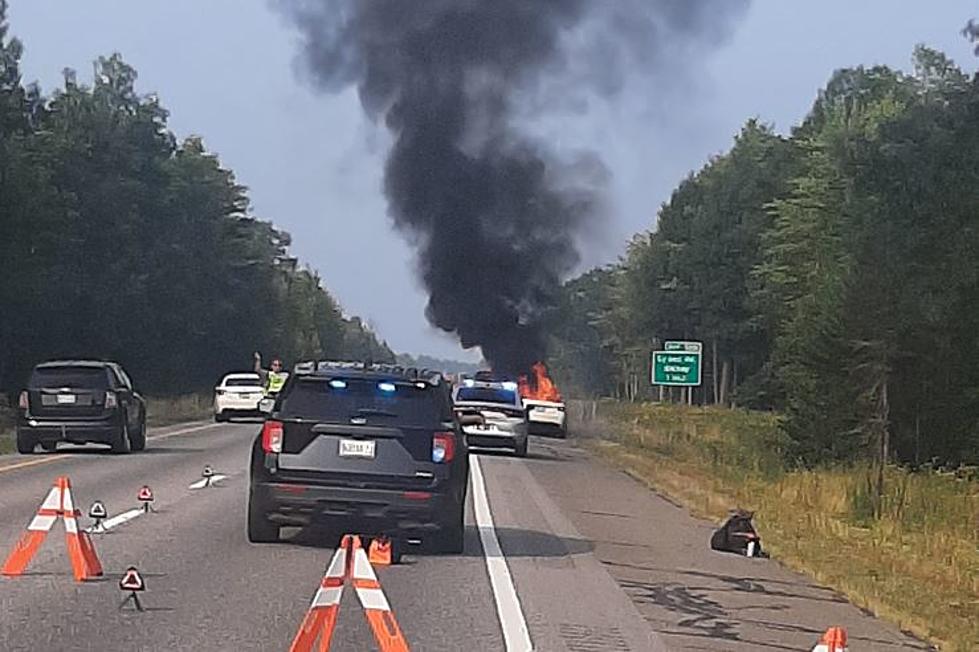 Multi-Vehicle Crashes, Car Fire and Injuries on I-95 in Maine
Maine State Police
A vehicle fire delayed traffic on the Maine Interstate after a multi-vehicle crash Wednesday night in Sydney. Several people were injured and part of I-95 northbound was closed in the area of mile marker 119.
First Crash on I-95 after Car Fire
Police arrived on the scene around 3:40 pm to find a "2013 Chrysler 300 fully engulfed in flames," said Shannon Moss, Public Information Officer, Maine Department of Public Safety.
Forty-six-year-old Gerald Fox from Winslow was able to pull the vehicle over to the breakdown lane and escape from the fire.
Troopers and Maine DOT requested advisory signs to inform drivers of the fire. Traffic was reduced to one lane.
The Sydney Fire Department was able to get through and put out the flames.
Second Crash Involved Tractor Trailer and Three Vehicles
Around the same time, at 3:47 pm, four vehicles were involved in a crash in the same area near mile marker 119 in Sydney. Moss said "This crash was caused as a result of the fully engulfed car fire about half a mile north of this location."
An 18-wheeler was not able to slow down due to the backed up traffic and hit three other vehicles "pushing them all off the roadway," said Moss. One person had minor injuries and was taken to the hospital.
Traffic came to a complete stop in both northbound lanes. It took about an hour to clear the road for traffic to continue.
Third Crash was a "Chain Reaction"
A third crash happened at the same time around 3:47 pm at the same location. As a result of traffic slowing down for the vehicle fire, a woman driving a 2014 Jeep Grand Cherokee rear-ended another vehicle.
Four People Injured in Third Crash
It caused a chain reaction, said Moss. Four people were transported to the hospital with minor injuries.
LOOK: The longest highways in America
carbongallery id="64592f0d34f0693f28d231b2"]