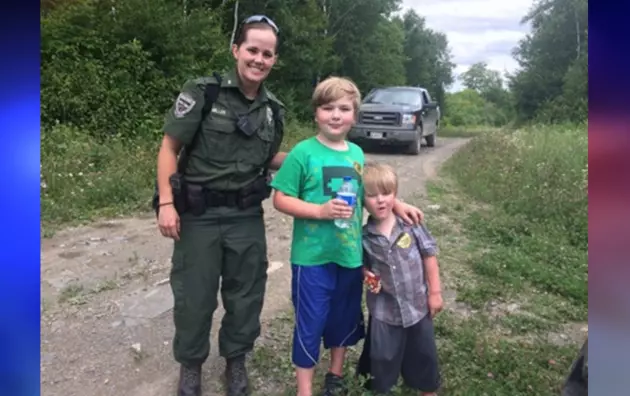 Maine Warden Service Locates Two Young Missing Boys, July 18
Maine Game Wardens
On Wednesday, July 18, several local game wardens responded to the lower end of Mattawamkeag Lake, to search for two young boys who had wandered away from their family's camp.
Because the search area included large tracts of woods, Maine Warden Service aircraft were also sent to aid in the search. At the time that the Maine Warden Service was alerted, the 8 year old and 4 year old boys had been missing for over an hour and family and friends had been searching for them.
Game Warden Pilot Gary Dumond reached the area and immediately began a methodical search pattern with an aircraft, looking for the boys along waterways, woods roads, and trails.  After approximately an hour and twenty minutes of searching, Game Warden Pilot Dumond spotted the boys from the air and directed game wardens on the ground to the boy's location. The boys were quickly located and returned safely back to their family.
The Maine Warden Service recommends searching for a missing person for 15-20 minutes and then calling 911 so that game wardens, police, fire, and search and rescue personnel can be alerted and started to your location. In rural areas of Maine, it may take some time for emergency responders to arrive.
It's important for parents to talk to their children about what to do if they are lost. Tell them to "find a space and show their face", find an open visible area, create shelter, stay put, and yell for help. Teach children to always tell an adult where they are going.