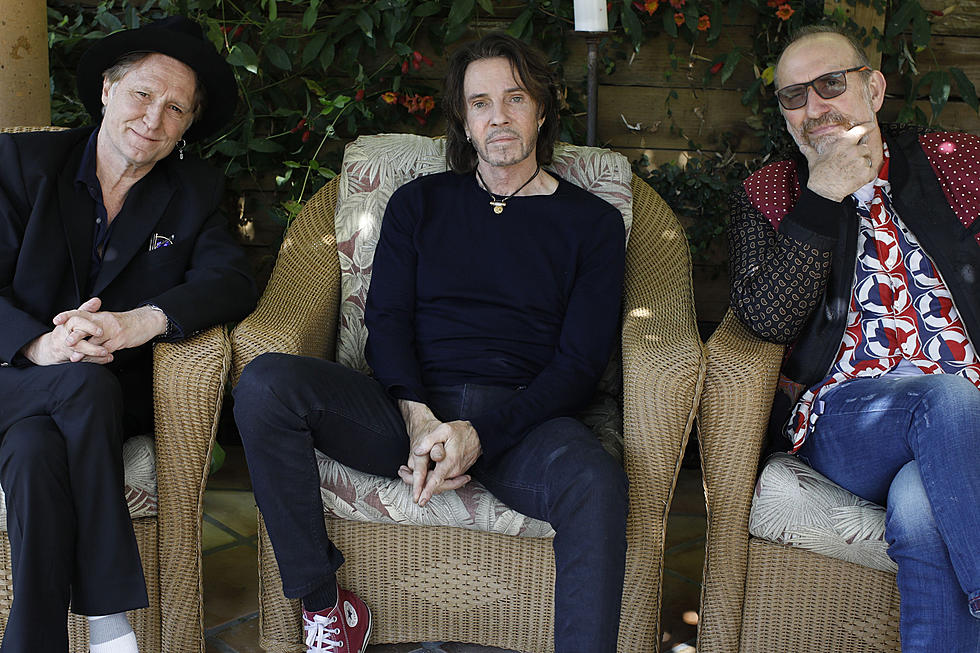 Rick Springfield, Men at Work and John Waite Are Ready for 'Incredible' Tour
Alex Kluft, UCR
Rick Springfield and Men at Work are joining forces this summer for an 18-city tour featuring special guest John Waite. All involved say it's going to be an "incredible" run.
The Australian rocker invited UCR to his house in Santa Barbara, where he shared a number of humorous anecdotes from his career. Springfield was joined by Waite and Men at Work's Colin Hay, and plenty of lighthearted banter and the occasional jab ensued.
The summer dates will feature an evening full of MTV-driven hits that scaled the charts time and time again. During the conversation, the three rockers detailed what fans can expect while also sharing some individual updates on projects they have coming up.
This tour is going to be a lot of fun, it seems. What are you all looking forward to?
Colin Hay: I'm looking forward to making some loud noises. You know, coming out on stage and seeing big crowds and seeing the other bands is always really good. I'm not thinking, "Oh, I've got to do the whole night myself." It's really good.
Rick Springfield: Yeah, if people show up, it's you. And if they don't show up, it's their fault. [Laughs]
John Waite: There's going to be a stampede of people.
Springfield: There will.
Waite: But they're all going to be leaving. [Laughs]
Springfield: We play very loud. No, it's great. It's great to share a bill, because in a way, you're kind of competing. They were great and you want to be at least as good. So it ups your game. Especially if it's guys you like, which we like each other so far. Once we get on the road, that may change completely. But so far, so good.
Watch Rick Springfield's 'Jessie's Girl' Video
It seems like you all have new music that's either done and coming out or on the way.

Waite: I've got a new EP called Anything [on the way] that's very upbeat. I think I owe it to people [because of] the times that we've lived through. I made Wooden Heart [the three-volume acoustic anthology] when the world was kind of in a dark place with the COVID thing. The new EP is four songs, and they are songs I've had for a while. I recut a lot of songs on the back of the Wooden Heart release, and we're just making an electric album. But making electric music is really difficult, because it can be cliche almost immediately. You find yourself being rock and roll, or you're not doing something, because it's cliche. It becomes very self-conscious. It took me a while to take a run at four songs. They're really good songs. I'm quite proud of them. It will be out in about a month, hard copy in the stores, Target all over America.
Springfield: We have a second Red Locusts [featuring Matt and Gregg Bissonette] album actually ready to go. We haven't mixed it yet. But once we started, we couldn't stop. It's more Beatle-y stuff. But I have a new record that I've almost finished that is very, very different for me. Like John was saying, it's very up. I don't know how to describe it. It's very hard to describe your own music, but it's hooks, which I kind of center every song on. And it's got weird production. I don't know. You'll just have to listen. You actually have to buy it and find out. Because there will be one copy for sale for $1 million.
Hay: I've got a new record that just came out. It's called Now and the Evermore. It was a great moment for me, having Ringo [Starr] play on the title track. I finished the song, and when I was messing around with the idea for the new song, I always imagined him playing on it for some reason. Then I thought, "Well, I'll just ask him."
Colin, fans will get to hear these Men at Work songs for the first time in a good while. How do you look back on the original era when the band was making those albums?
Hay: Well, you know, the initial band and the people who were in it wasn't really destined to stand the test of time. But the music has, which I'm very grateful for. You know, the music keeps resonating over the decades. I play the songs with the current band that I have at the moment, and everyone responds to it in the same way that they always have. You know, you can't really tell if your music has any kind of timeless quality to it unless a certain amount of time goes by. I love playing those songs. I always love playing them and I still do. I've made a lot of records since then, but I'm happy to go out on this tour and just play Men at Work material, because it's incredible to play and I love playing the songs. The audiences seem to love it as well.
Springfield: It's those songs, too, that enable us to [do something like this].
Waite: Well, it's the voice that's still going, too.
Hay: Speaking of voices!
Waite: The thing that we've all got, I think, is a very different vocal presence. You couldn't imagine anybody else singing Men at Work songs but Colin.
Springfield: I'm going to give it a shot.
Waite: And being the writer, it kind of corners the market on who is going to put Men at Work back together.
Hay: Thank God for that! [Laughs]
Springfield: It's like, Little River Band is not Little River Band anymore. At least we are the ones.
Waite: Yeah, I mean, if you're the singer, you hold the key to it. It's terrible stuff, but it's true. Bands always break up because the drummer always wants to be the singer.
Springfield: I have written a song! [Laughs]
Waite: Yeah, you know, it's always the same way!
Hay: Spinal Tap is very close to it.
Springfield: It's frighteningly close to reality.
Waite: It doesn't matter how calm or nice you are. There's always the same problems in every band. If it isn't somebody else making the problem, it's you. You know, there's like a Spinal Tap, natural progression in every rock band. [Laughs]
Springfield: I've been both the identifier of the problem and the problem.
Watch Men at Work's 'Who Can It Be Now?' Video
John, you've been revisiting your catalog of songs with the Wooden Heart series, as you mentioned earlier. What did you glean from that whole exercise?

Springfield: Let me take that one. [Laughs]
Waite: I always said that if you can play it on the acoustic without a band and without the volume, it's a good song. You know, if it stands up in a folk club, it's going to kill 'em in a stadium. The Wooden Heart thing, I went back and looked at the most evolved songs. I even did "Isn't It Time," the Babys song, which had brass, a full orchestra, African American backup singers and a rock band, the Babys. I did it with one guitar and a vocal. It shows you the strength of the song. But I was only interested in the songs that were lyric-driven or unusual pieces of music. ... There was enough songs to make it a really interesting triple album.
Rick, you've had an association with Sammy Hagar for a lot of years now. What's one of your favorite Sammy stories from over the years?

Springfield: Nothing I can probably say on camera. [Laughs] You know, Sammy's always been very helpful. When I first started having some hits, he helped me pull together a PA system and lights for a show I did here. He's always been very supportive. You know, we've stayed in touch, and when he had this rum deal, I thought, "Why not?" We have a rum together called Beach Bar Rum, and I'm not plugging it or anything, I'm just saying, because you brought it up. It's awesome.
Hay: You're in the rum business?
Springfield: Yeah, Beach Bar Rum. It's amazing. Do we have any we can share with our friends? Let's give John some rum.
Waite: No, no. The pants are staying on, my friend.
Making music during the MTV era, what were some of the things that went wrong as you were doing videos?
Hay: We were doing a video for a song called "High Wire" many years ago. We employed the services of a circus. In the background, there was a camel and the camel's handler. I think the camel's handler was not a very nice person and had perhaps abused the animals. So he was distracted by the camera and what we were shooting. The camel noticed this and picked him up by the shoulders and just started shaking him around. You can see that in the video.
Springfield: What prompted you to have a camel in the video?
Hay: Well, we had the whole circus. That's what sprang to mind.
Springfield: I was doing a shoot for a video in England for a song called "Don't Walk Away." I had this great idea. We were on the beach, down in Brighton, I guess it was. I said, "I'm going to lie down in the water, and then we'll reverse it and I'll come up out of the water dry." So we used it, but I did it and then I came up and I see this building, like on the coast, and I go, "What's that?" They said, "It's a nuclear power station!" I went, "Oh! I might have just bathed myself in nuclear waste."
Waite: I wrote a song called "In Dreams" with Mark Spiro for a Quentin Tarantino movie called True Romance. The director wanted to shoot the video. Tony Scott. I met Tony at Monument Valley, and he took me up in a helicopter and dropped me on top of a mesa. It was like 6,000 feet up, and I'm scared of heights. They drop me from the helicopter on top of this thing and put a wire cable up my leg and nailed me to the top of this thing. Then they were dive-bombing me. You can see the curvature of the earth, it's that high. It's Tony Scott and it's a beautiful, fantastic movie. I'm very proud of having a song in it. I love Tony, and he was a really lovely guy. I really fell in love with the guy immediately. He was just a great guy and a great talent. Then he took me in the helicopter. I mean, you have to get off this mesa because of the updraft. You went to the edge in a helicopter, and then he goes straight down, so you don't get blown back. I'm scared of heights, right? I'm in the back with Tony Scott. Then he's got me hanging out of the helicopter on straps singing the song, as you do.
Watch John Waite's 'In Dreams' Video
Top 100 '80s Rock Albums
UCR takes a chronological look at the 100 best rock albums of the '80s.