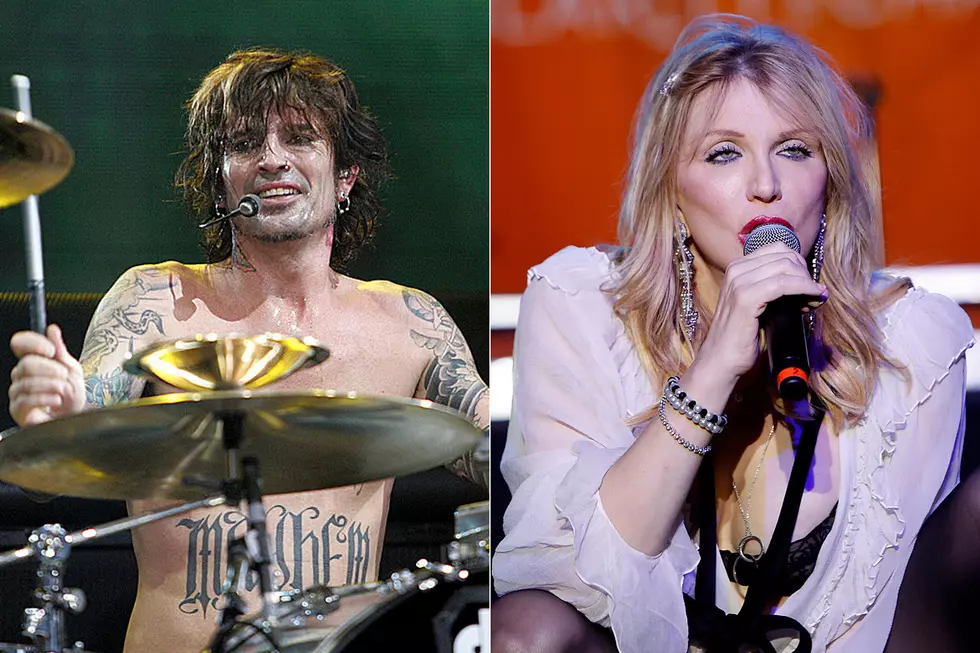 Tommy Lee Claps Back at Courtney Love Over 'The Dirt' Jab
Frank Micelotta / Randy Shropshire, Getty Images
The Motley Crue movie The Dirt did quite well for Netflix earlier this year, though reactions were a bit mixed. While the old adage stands that "everyone's a critic," drummer Tommy Lee has fired back at one well known fellow musician who called The Dirt "the dumbest Netflix film ever."
Courtney Love recently chatted on a number of topics with Interview magazine, but spoke about having a girls night with friends and taking in the much discussed movie. "We watched the dumbest Netflix film ever called The Dirt," said Love, adding, "It's so stupid and vile about women, and just fucking dumb."
The Hole vocalist went on to discuss the film's predictability, adding, "It was super fun to groan together. We had jasmine tea. We all got our bodies worked on and watched this white rapper named Machine Gun Kelly, and we just made jokes. I was like, 'When's Ozzy gonna snort the ant?' Then, within seconds, he snorted the ant. Then the Nikki Sixx character was like, 'I have a new girlfriend. She's sweet. She's wonderful.' I was like, 'And her name is heroin.' Two seconds later: 'Her name is heroin.' I was killing it."
After spotting the mention in the media, drummer Tommy Lee fired back on Twitter, asking, "Hey @Courtney When's your movie coming out? Oh wait.... Never!!!!!"
Back in March, Lee also hit out at an Esquire review of the film that called out the misogyny and "unchecked hedonism" of the movie. The drummer stated in a tweet, "ur review in @esquire of The Dirt was laughable. Jeff and the cast KILLED it, it was our lives, we would know. Besides what are you like 30 something? Little girl you don't even know about this life ...Thanks for trying tho."
Motley Crue Albums Ranked