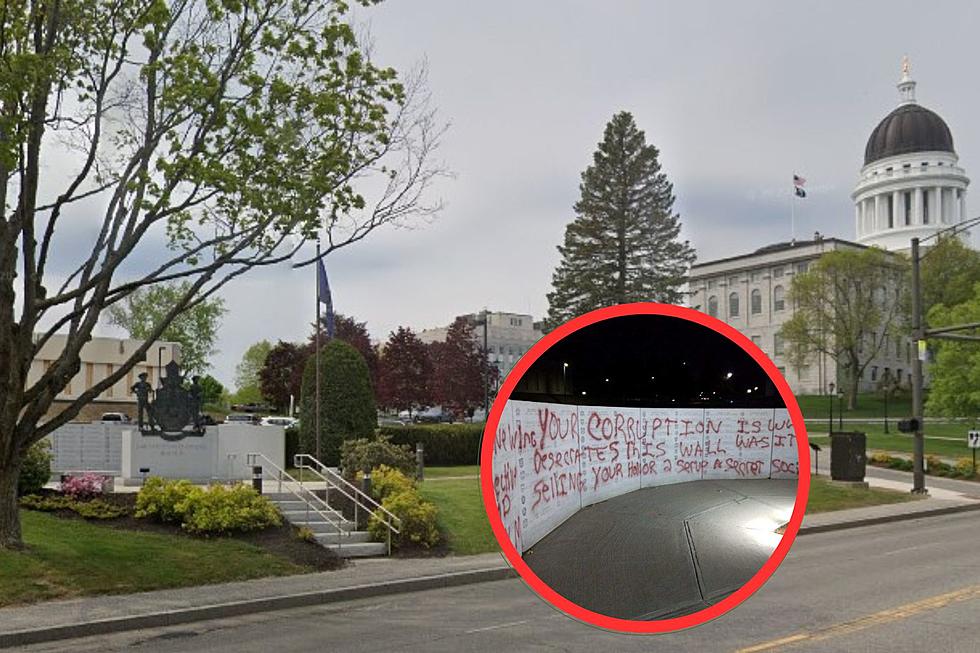 Maine Law Enforcement Memorial was Vandalized, $1K Reward Offered
Google/Maine Association of Police via Facebook
Maine's law enforcement community is offering a reward for information about the person(s) who vandalized their memorial wall.
Where is the Memorial?
The Maine Law Enforcement Memorial is a granite wall that sits on State Street in Augusta, near the Maine State Capitol that honors 88 officers killed in the line of duty from departments around the state. It's a bittersweet place that combines a beautifully inscribed wall with the knowledge that too many good people have lost their lives in service to our state. They deserve respect, reverence, and honor.
What Happened to It?
But on Memorial weekend, some person(s) decided to take out their own anger and frustration by desecrating this most sacred of places by spray-painting angry messages all over it. The vandalism happened sometime Sunday night and was discovered on Memorial Day. The wall was shrouded in plastic tarps and crime scene tape for the first few days. Then this week, crews worked to remove the graffiti and restore the wall to its original glory.
Why Are Police Offering a Reward?
President of the Maine Chiefs of Police Association, Charles Rumsey, said in a joint statement that Capitol Police are working closely with the Augusta Police Department and Kennebec County Sheriff's Office to find those responsible for the vandalism.
This memorial, which contains the names of eighty-eight Maine troopers, deputies, game wardens, and officers who gave their lives in service to the people of this state is paramount to us. It is important because it stands in honor of the sacrifice those officers made, and the loss that their families, friends, departments, and communities suffered.
The Maine Association of Police, the Maine Chiefs of Police Association, and the Maine Sheriff's Association are offering a $1,000 reward for information that leads to the arrest and successful prosecution of those responsible for desecrating the memorial. Anyone with information is encouraged to contact the Capitol Police at 207-287-4357.
Honor Roll Lists 12 Maine State Troopers Lost in the Line of Duty
12 Maine State Police Troopers have given their lives while conducting their duties.
15 Ways to Avoid Falling Victim to Crimes of Opportunity
Protecting your valuables is often a matter of being aware of potential risks. These tips could help save you from what police call crimes of opportunity.