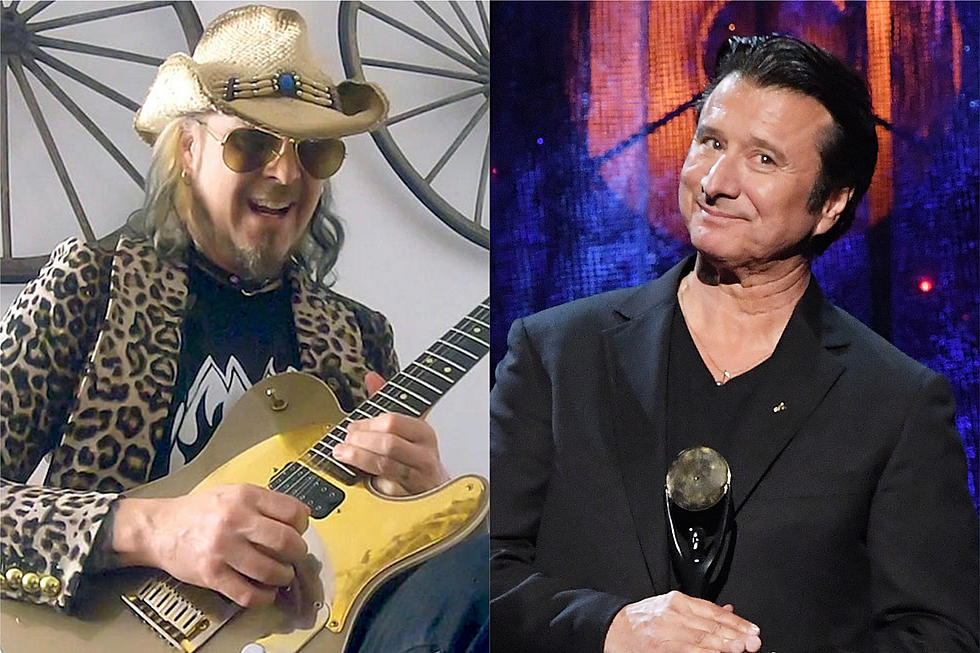 John 5 Has a 'Ton of Music' He Wrote With Ex-Journey Vocalist Steve Perry
Loudwire / Joe Coppola, Getty Images
John 5 says he wrote "a ton of music" with former Journey lead vocalist Steve Perry when the two first got together a few years ago. After all, the prolific Rob Zombie guitarist does contribute guitar work to Perry's "Sun Shines Gray," a song from the ex-Journey man's solo album Traces that came out last fall.
"My agent, John Ditmar, he was friends, or is friends with Steve Perry, and [Steve] was writing with people," John 5 recalls to the Rock Talk With Mitch Lafon podcast, as transcribed by Blabbermouth.net (hear it below). "And this is years ago — years ago. And he's, like, 'Oh, you should write a song with Steve Perry,' and he brought me up and things like that. So I went over to his house, [and] we wrote a ton of music. We totally hit off. [We] had a blast. [We] loved each other."
He continues, "We were having so much fun — a lot of the times not even talking about music; just hanging out and just whatever. He's the greatest guy, and I would sit a foot away from him and we'd be recording music and he'd be singing, and I'll tell ya — it's like listening to the radio. This guy's voice is the same. It's crazy. I was right next to him, and I was, like, 'Oh my God! I'm gonna remember this.' 'Cause his voice sounded exactly how it always has, how I've listened to it my whole life… It was magical."
Not only that, but it looks like John 5 and Steve Perry remain friends. The guitarist recounts an endearing story in which he invited the vocalist to a Zombie show. But maybe it wasn't the right scene for the Raised on Radio singer.
"I text him all the time, and we're buddies," John 5 adds. "He's the coolest dude ever. We have lots of fun things that we've done together. One thing that I did, and this was a hundred years ago; I've known him for a while. I was, like, 'Come to Long Beach. We're playing a concert.' It was Halloween. It was [Rob] Zombie and Anthrax. It was this crazy show at Long Beach Arena, I think it was."
"Steve was, like, 'Okay. Cool. I'll come,'" he continues. "I think Gene Simmons was there. It was like a 'who's who,' and here comes Steve Perry. He was, like, 'Hey,' and people were freaking out. We were playing, and I don't think he had a good time. He didn't tell me, but I don't think he had a good time, cause it was so crazy. The music and everybody was screaming and moshing. He was, like, 'What is going on here?' But I think that was the only thing he had to endure. But he never [complained about it]. He was, like, 'Oh, it was great, and it was fun.' He's such a nice person. He's such a great sport."
Earlier this week, John 5 sat down The Music Experience's Squiggy for an episode of Loudwire's Gear Factor, powered by Sweetwater, to show off some his otherworldly guitar shredding. Watch the new video below.
Is John 5 Among the 30 Most Underrated Hard Rock + Metal Guitarists?