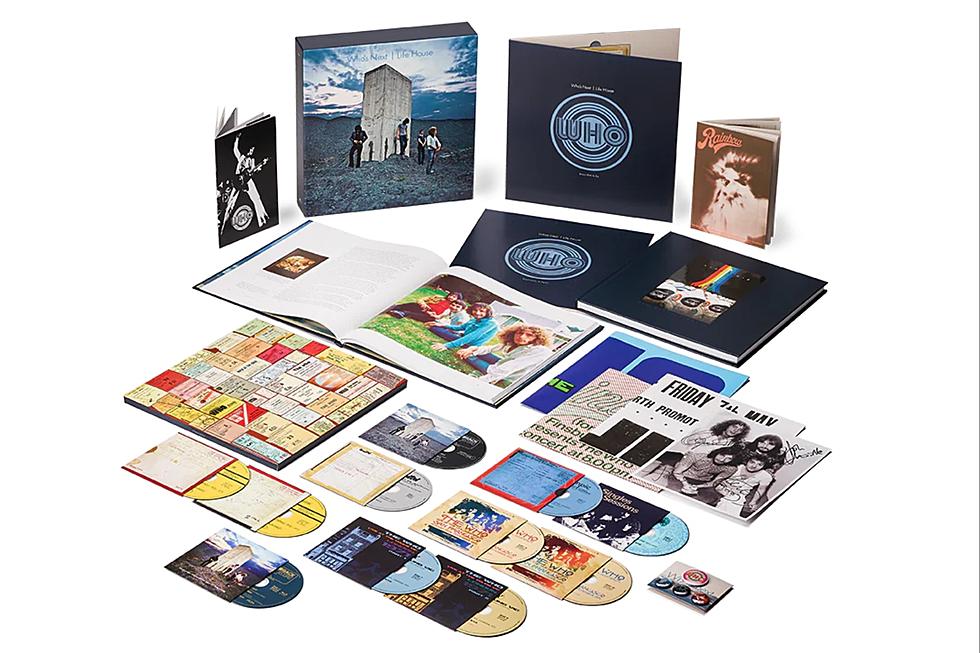 The Who Announces 'Who's Next/Life House' Deluxe Box Set
UMe
The Who will release a massive box set featuring their classic Who's Next album and their shelved Life House project on Sept. 15.
Who's Next/Life House will contain a whopping 155 tracks, including 89 that were previously unreleased and 57 that have been freshly remixed. It's available to preorder now in a variety of formats, including a Super Deluxe Edition that contains 10 CDs and a Blu-ray Audio disc with new Atmos and 5.1 surround mixes of the original album and 14 bonus tracks by Steven Wilson.
The Who originally intended to release Life House (historically stylized as Lifehouse but listed as two words in the latest news release) as the follow-up to 1969's Tommy. The sprawling sci-fi rock opera was set in a future world where society was on the brink of collapse, all human experiences took place via test tube and rock 'n' roll no longer existed. "Under those circumstances, a very, very, very old guru figure emerges suddenly and says, 'I remember rock music, it was absolutely amazing, it really did something to people,'" Pete Townshend told Penthouse in 1974.
"And he talked about a kind of nirvana people reached through listening to this type of music. The old man decides that he's going to try to set it up so that the effect can be experienced eternally. Everybody would be snapped out of their programmed environment through this rock 'n' roll-induced liberated selflessness."
Townshend wanted to stage this event in real life, so the Who booked a residency at London's Young Vic theater where they could slowly become one with their audience. "The idea was to get 2,000 people, and keep them for six months in a theater with us," Townshend explained. "The group would play and characters would emerge from them; eventually the group would play a very minor role. Maybe 500 of the original 2,000 would stay during the six months, and we would have filmed all that happened."
Unsurprisingly, this wildly ambitious exercise failed, as audiences heckled new material and clamored for the hits. The band eventually shelved Life House and repurposed many of its songs for the more conventional (but still universally acclaimed) rock album Who's Next, released in 1971.
Who's Next/Life House will give listeners an in-depth look at Townshend's creative process at the time, featuring Life House demos, recording sessions from New York and London from 1970-72 and two newly mixed and complete 1971 concerts from the Young Vic theater and San Francisco's Civic Auditorium. The box set also contains a 100-page hardback book with Townshend's introduction and notes by Who experts Andy Neil and Matt Kent; the 170-page Life House - The Graphic Novel that tells the story of the album; and various concert posters, programs, photographs and buttons.
More information and an extensive track listing for the deluxe edition can be found on the Who's website.
The Who Albums Ranked
Half of the Who's studio albums are all classics, essential records from rock's golden age. But where should you start?