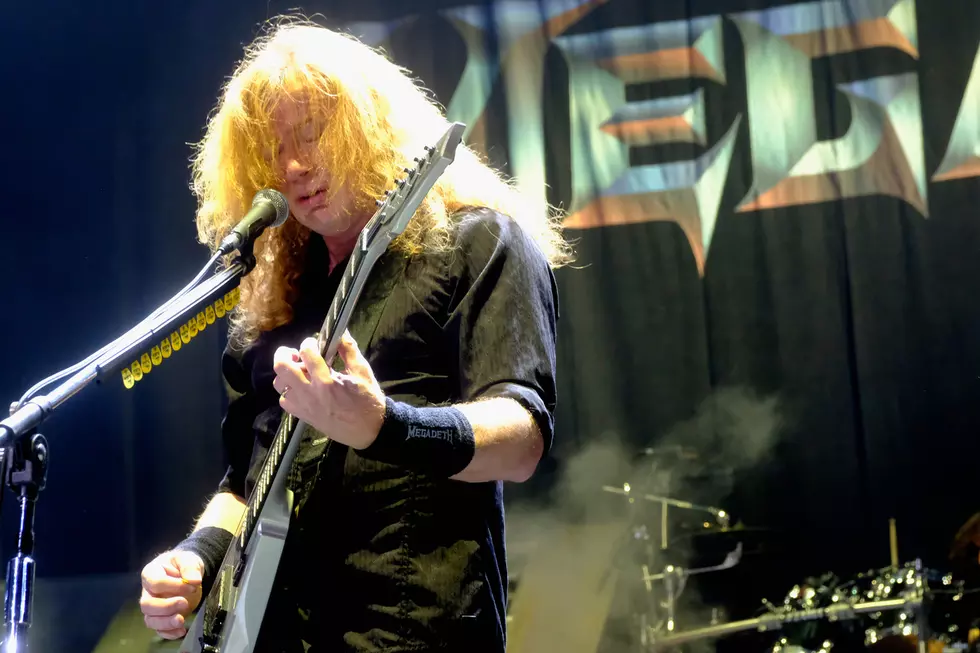 Hear Dave Mustaine Guest on a Country Song With Brett Kissel
Frazer Harrison, Getty Images
Dave Mustaine spreads his talents out to many bands that aren't Megadeth. If you were witness to our inaugural Loudwire Music Awards this year, you might have caught Mustaine joining Body Count for their collaboration "Civil War," which made sense after Mustaine made a guest turn on their Bloodlust album. But he's decided to throw a bit of a curveball, as the Megadeth axeman recently appeared on country musician Brett Kissel's new album, and his song "Damn!"
The song opens with a heavy riff, and immediately leads into a poppy, country jam with minor electric guitar. The track is pure country-pop, featuring lyrics about partying and hanging out at a bar. Mustaine's guitar work is mostly in the background until about the midway point through the song, where he unleashes his fretwork for a sweet solo. The song offers a totally different context in which to hear Mustaine's work, but the track still ends up being pretty fun.
The Megadeth leader moved to Nashville back in 2015 while supporting his daughter Electra's country recording career, so the musical hookup with a country artist shouldn't be too much of a surprise. At the time of his move, Mustaine stated, "The reason we moved out here was because I've made four records out here and all those times I was recording, I did live here. It really was comfortable to be here. The last time we were here, Electra was only two years old. We didn't know that she had the gift and once she started singing — I heard her sing one time and I was really convinced." He went on to add, "I don't profess to be a singer first and foremost — I'm a guitar player that sings more than a singer who plays guitar. But with her, she really is. That's her strong point. For her, this is music city. It's all about country. It's where she's flourishing."
Mustaine has been in the media recently, speaking about all aspects of Megadeth. Recently he appeared on The Jasta Show to recount how he almost missed out on "The Big 4" Yankee Stadium show in New York because of his neck and back pain, but was egged on by Metallica co-manager Peter Mensch.
"When I did the 'Big Four' concert at Yankee Stadium and had my neck in a neck brace riding on a golf cart to the stage, I had tape all over the stage that said, 'Don't headbang.' I would have died if I headbanged that night because I was in an emergency surgery room two days before, ready to have my neck operated on. And I called up my manager, Mark Adelman, at the time, and I said, 'Look, I played with Metallica, Anthrax and Slayer before, I've played New York before, I've played a baseball stadium before, so none of this is new to me. And I have to cancel because I need emergency surgery.' So, allegedly, Adelman tells this to Metallica's management — whatever the guy with the name of a penis, whatever his name is... It was Dick or Peter or something... Peter! So [Peter] said I was a pussy. And so I went, 'Okay. All right. Wrap me up. I'm going to New York.' So they gave me a bunch of injections in my neck and put me in a neck brace and I flew out there and I played the concert and I came back. And I figured, nobody else knows about this except for him, and who's the real pussy now?"
Check out Mustaine's appearance on Brett Kissel's "Damn!" below.
Brett Kissel (featuring Dave Mustaine), "Damn!"
Where Does Dave Mustaine Rank Among the Top 66 Hard Rock + Metal Guitarists of All Time?
10 Greatest Megadeth Riffs