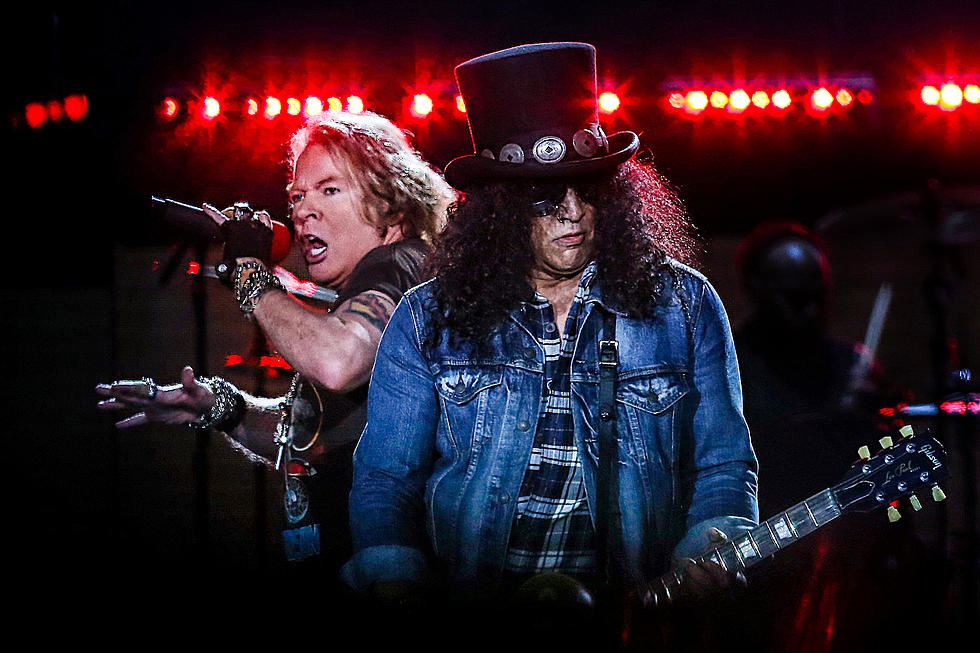 Slash Shoots Down Rumored Guns N' Roses 'Terminator' Movie Song
Paul Rovere/Fairfax Media, Getty Images
UPDATE: Slash told Eddie Trunk about the rumored song, "We're just doing this one run in the states and a couple dates in Mexico end of this month into November. That's it for Guns for now, and I think we have something coming up in March as far as touring is concerned. But then, obviously, everybody knows that we're working on new material, which is really exciting, and so, that's really primarily what the focus is. There's nothing in the Terminator movie, by the way."
Remember all of the instances this year where the members of Guns N' Roses hinted that new music was in the works? One fan may have figured it out — GN'R are rumored to have a new song featured in the upcoming movie Terminator: Dark Fate.
Australian Guns N' Roses fan page Guns Over Oz initially posted the rumor on their Facebook. "A source who was working on Terminator: Dark Fate has informed that 4 members of guns n roses went to a private viewing of a rough copy of the upcoming Arnold Schwarzenegger sequel movie to see if they want to put a song on the soundtrack. Apparently, Slash was at axls house to record overdubs on a song for the rush release. At this point the song name is unknown. But yes 100 percent verified. Guns n roses new music."
Over the last several months, multiple sources reported that Slash had been spending some time at Axl Rose's house, insinuating that they were laying down guitar tracks for new music. Kruise Kontrol Amplification posted a since-deleted photo of an amp that the guitarist was supposedly using to record new material in Rose's home studio.
If the rumors are true, this would be the first new release from the original GN'R trio of Rose, Slash and Duff McKagan since 1993's The Spaghetti Incident?. It also wouldn't be the first time the rockers have had involvement with Arnold Schwarzenegger and the Terminator franchise, as the Use Your Illusion II track "You Could Be Mine" was included on the soundtrack for Terminator 2: Judgment Day. Guns N' Roses also placed the song "Oh My God" in another Schwarzenegger flick, End of Days. 
The upcoming sequel is due for release Oct. 23, and Guns N' Roses kick off the next leg of their Not in This Lifetime tour Sept. 25 in Charlotte, N.C.
Guns N' Roses Songs Ranked