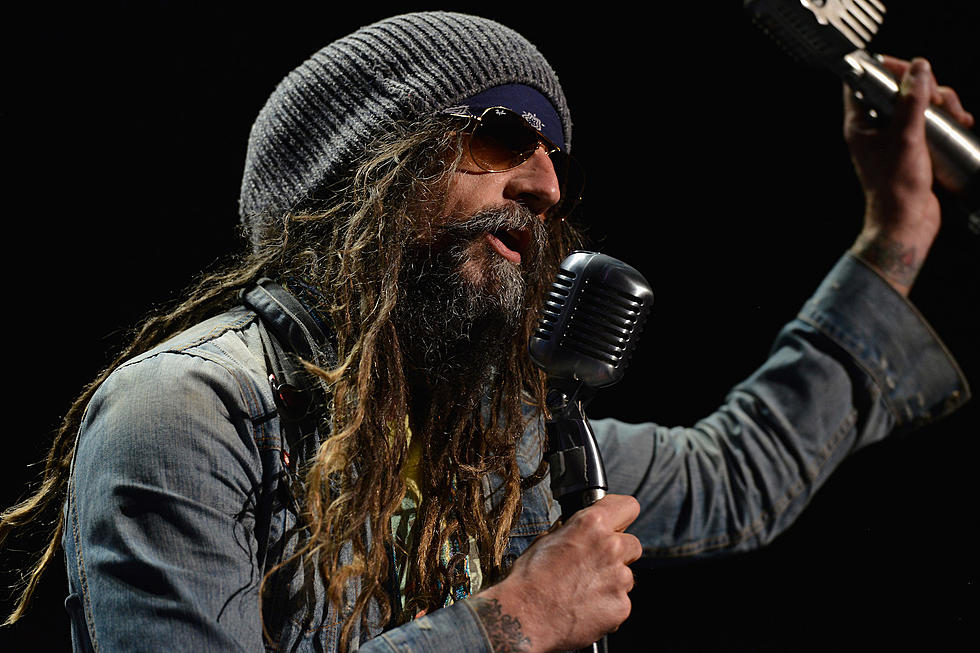 Rob Zombie Plots 'Hellbilly Deluxe'-Themed Halloween Attraction
Duane Prokop, Getty Images
Musician and moviemaker Rob Zombie has revealed that a "Halloween Horror Nights" scare zone at the Universal Orlando Resort this fall will be based on his 1998 debut solo album, Hellbilly Deluxe.
Inspired by themes from the recording, the attraction will join four other scare zones, 10 haunted houses and other live entertainment as part of the park's annual Halloween event that started in the '90s as Universal Studios' "Fright Nights." See Zombie's announcement down toward the bottom of this post.
"You know his music, now it's time to live it," a press release stated. "Step into the heavy metal horror of Rob Zombie's music and imagery in this pulse-pounding scare zone. From otherworldly beings to brutal maniacs, you'll come face-to-face with his twisted creations as the music cranks to a frenzy."
This isn't the first time that one of Zombie's spooky ideas has taken shape as an amusement park thrill. The rocker-auteur's 2003 exploitation send-up House of 1000 Corpses was turned into a Halloween maze in 2010.
Zombie's long-awaited House of 1000 Corpses and The Devil's Rejects sequel, 3 From Hell, is due out later this year. It will premiere Sept. 16-18 with a special three-day screening event by way of Fathom Events' Digital Broadcast Network, with a wide release expected to follow.
2019's "Halloween Horror Nights," will run for 41 select evenings from September 6 – November 2 along with the four other scare zones, including one based on the unrelated comedy-horror Zombieland called "Zombieland: Double Tap." Get info on all of the scare zone attractions below, and find out more here.
Rob Zombie Hellbilly Deluxe: Inspired by the heavy metal horror music of Rob Zombie, guests will be surrounded by otherworldly beings, brutal maniacs and menacing machines all while they scream along to Zombie's haunting lyrics on the streets of San Francisco.

Zombieland: Double Tap: As guests enter the streets of New York, they'll be thrown into the world of Zombieland where they must escape bloodthirsty zombies or become a midnight snack.

Anarch-cade: On Avenue of the Stars, guests will enter a sinister 80s-inspired arcade where they only get one life. Their fear will level up as they try to flee a band of neon slashers, highlighted in black lights, with chainsaws.

Vikings Undead: Brutal, horn-helmeted warriors will rise from the grave and seize Central Park. Guests will become victims of these skeletal fighters and draugr, reanimated corpses who have channeled their vindictive rage into an endless onslaught of gore.

Vanity Ball: On the streets of Hollywood, guests will quickly discover beauty is pain as they watch artists turn willing participants into horrific living works of art.