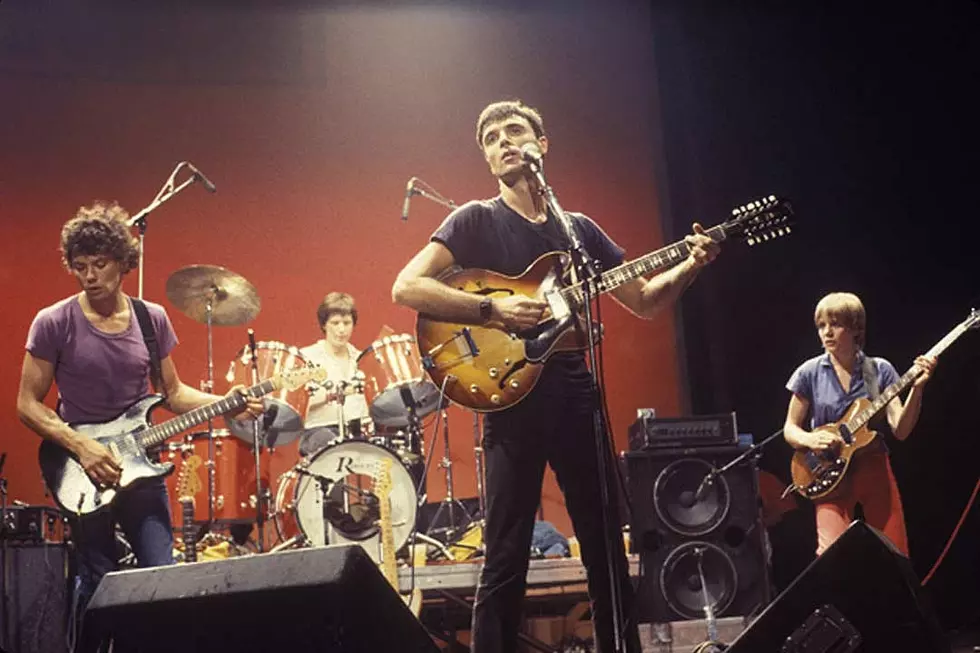 David Byrne Regrets Talking Heads Breakup 'Wasn't Handled Well'
Ebet Roberts / Redferns, Getty Images
Talking Heads co-founder and principal songwriter David Byrne expressed his regrets over how the band fell apart and admitted he could have personally handled the split better.
Byrne is set to reunite with ex-bandmates Tina Weymouth, Chris Frantz and Jerry Harrison for the first time in more than two decades to commemorate the 40th anniversary of their landmark concert film Stop Making Sense. The conversation, moderated by filmmaker Spike Lee, will take place at the Toronto International Film Festival on Sept. 11, following a screening of the movie.
The impending reunion has prompted Byrne to revisit the band's breakup in the early '90s, which was technically never made official. "As far as we're concerned, the band never really broke up. David just decided to leave," Frantz told The Los Angeles Times in 1992.
"As a younger person, I was not as pleasant to be around. When I was working on some Talking Heads shows, I was more of a little tyrant," Byrne told People. "And then I learned to relax, and I also learned that collaborating with people, both sides get more if there's a good relationship instead of me telling everybody what to do."
Of the group's ambiguous dissolution, Byrne confessed, "I think [the end] wasn't handled well. It was kind of ugly." The 71-year-old songwriter further acknowledged that "divorces can be ugly" and admitted, "I have regrets on how that was handled. I don't think I did it in the best way, but I think it was kind of inevitable that would happen anyway." He added that he and the rest of Talking Heads "have a cordial relationship now. We're sort of in touch, but we don't hang out together."
A remastered version of Stop Making Sense will air in select IMAX theaters on Sept. 22 and receive a wide release on Sept. 29. Byrne said he's "hopeful that a wider, kind of younger audience will get to see this and see what we've done. I'm optimistic that it's going to reach a different audience that wasn't aware of a lot of this stuff."
He also singled out one jarring moment that came from re-watching the film: "My voice is still in good shape, but there's one backwards jump that I do, and I go, 'How in the world did you do that?'"
Talking Heads Albums Ranked Worst to Best
For the decade and a half that they held it together, Talking Heads led a charmed musical career.