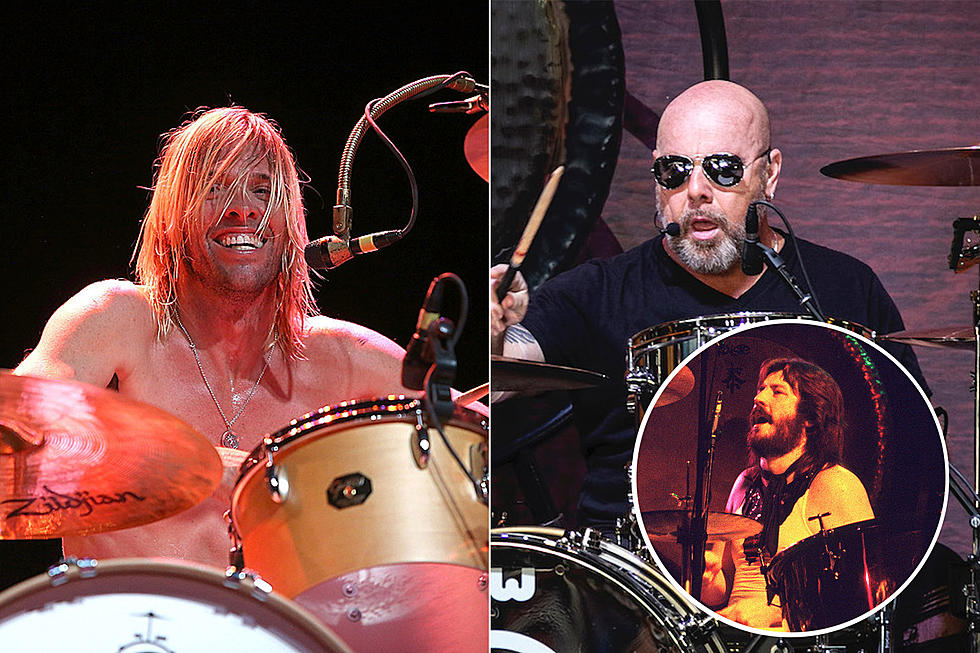 Taylor Hawkins' Death Reminded Jason Bonham of His Dad's Death
Mike Lawrie, Getty Images / Jeff Hahne, Getty Images / Chris Walter, Getty Images
It's always devastating to lose a musician, but certain losses truly have a global impact. Taylor Hawkins' death at the end of last month hit the whole world really hard, and Jason Bonham admitted that it actually reminded him of when his father — the legendary John Bonham — died in 1980.
The Led Zeppelin drummer died while the band were rehearsing for an upcoming North American tour in support of their 1979 album In Through the Out Door. He was 32 years old, and his role in the band was so profound that they chose to call it quits after he died.
When Foo Fighters announced that Hawkins had died in his hotel in Bogota, Colombia on March 25, the music world came to a similar standstill. As the days followed, tributes poured in not only from musicians, but other celebrities and even some political figures as well.
"When we lost Taylor, it opened a floodgate of memory for the day that I found out my father passed," Jason Bonham told New York's 102.3 WBAB. "And to [Hawkins'] family and to his friends and his children, my love and best wishes go to them with every ounce of me. He was a wonderful person. I got to hang with him on several occasions and Dave [Grohl], and the whole band are just amazing guys."
Bonham played a concert with Sammy Hagar and the Circle the night that the news of Hawkins' death broke, and he described it as one of the hardest shows he's ever had to play.
"[It] was 10 minutes after finding that out. As I said, it's not just because of him. At that time, for me, and I think for a lot of us, when somebody like that passes, if we've lost somebody close to us, it brings back all of that. But we have to remember it brings back also the joy, the smile, the laughter," the drummer explained.
"I'm fortunate — my dad — there's enough clips on YouTube and the Internet that you can go to, and I can say to my children who never met him, 'This is your grandpa...' So for us, we're blessed. There is footage always there to show them what he was like. And some people don't have that. So I feel very fortunate."
Check out the full interview here.
23 Rock + Metal Drummers Influenced by John Bonham