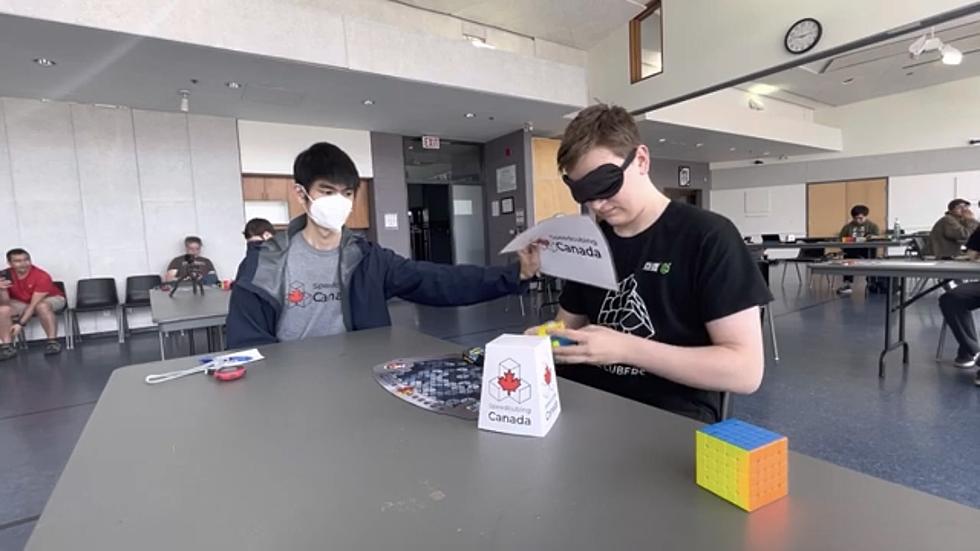 Rubik's Cube World Record Broken by Blindfolded Teen in New Hampshire
Elliot Kobelansky via YouTube
To anyone like me who's felt incredibly embarrassed not knowing how to solve a Rubik's Cube, good news: it was only because we weren't wearing a blindfold.
At least, that is what I choose to believe after reading the tale of Elliott Kobelansky, an 18-year-old from Montreal who straight-up mastered those blocks at the World Cube Association competition in Exeter over the weekend (do you think he let it roll and tried to make his way through one of Phillips Exeter's secret tunnels?).
The 18-year-old broke his own record by lining up the colors in just 14.15 seconds. But it was another feat that had everyone talking: Kobelansky put on a blindfold and solved a cube in just 15.05 seconds – also a new world record.
As to that ho-hum, non-blindfold match, Kobelansky gave CTV a quote mirroring the brevity of the moment:
"Finally getting it now feels really, really good."
Adding to the intrigue is that the previous record holder, an American named Tommy Cherry, is one of Kobelansky's best friends. Hopefully, they'll sneak a couple cubes into an UberPool this summer and absolutely blow somebody's mind.
The Rubik's Cube became a global phenomenon in the early 1980s and went on to become the world's best-selling toy, according to British newspaper The Independent. It would later be inducted into the Toy Hall of Fame – sort of as the thinking person's Mr. Potato Head.
Kobelansky explained that he has created a method for solving a Rubik's Cube blindfolded, which begins with grouping the blindfold mentally and using visualization to carry him through each turn.
New Englanders Who Found Success After 40