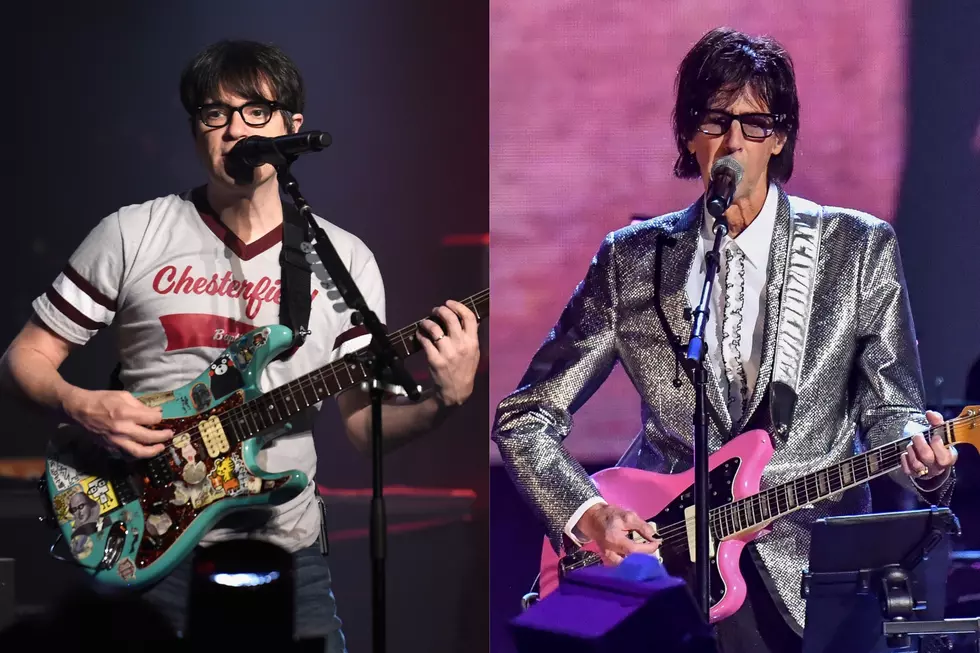 Rockers React: Weezer + Others Comment on Ric Ocasek's Death
Patrick McDermott / Jeff Kravitz, Getty Images
Following yesterday's news of Ric Ocasek's death, artists close to the Cars mastermind offered comment on the rock and roll icon. Those include tributes from bands Ocasek produced in a long career behind the boards — such as Weezer, Nada Surf and Suicide — as well as entertainers otherwise touched by the singer and songwriter.
The Killers frontman Brandon Flowers, who inducted the Cars into the Rock and Roll Hall of Fame last year, shared an email he wrote Ocasek after the musician died Sunday (Sept. 15) at the age of 75. Other rock musicians (including members of KISS, Guns N' Roses and more) also gave their condolences. See them toward the bottom of this post.
"The Weezer family is devastated by the loss of our friend and mentor Ric Ocasek, who passed away Sunday," Weezer shared alongside rare photos of Ocasek and the band on their social media outposts. "We will miss him forever, & will forever cherish the precious times we got to work and hang out with him. Rest in Peace & rock on Ric, we love you."
"Feeling grateful for Ric," Flowers told his Twitter followers alongside the aforementioned message. "Had the opportunity to send him this email a couple years back. My first king. Thank you, thank you, thank you."
Ocasek came to fame as a member of the Cars, sharing vocals with late bassist Ben Orr. The act's popular songs include "Shake It Up," "Just What I Needed," "Good Times Roll" and "My Best Friend's Girl," among others. In addition to the Cars, Ocasek enjoyed a career as a solo artist and became an in-demand producer in his post-Cars years. He worked with Bad Brains, Suicide, D Generation, No Doubt, Motion City Soundtrack and oversaw three Weezer albums.
Rockers We've Lost in 2019