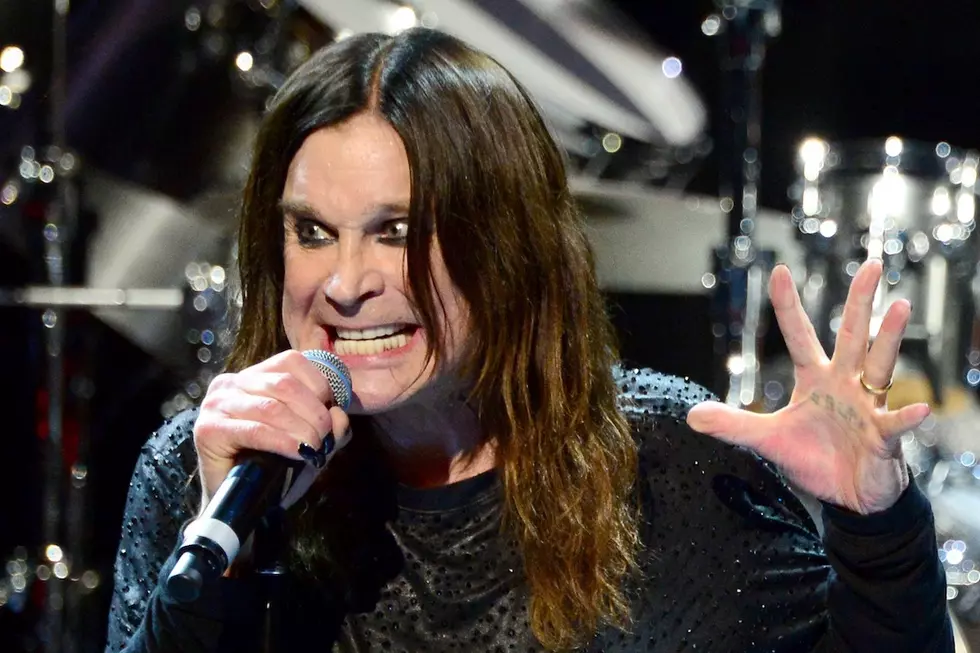 Ozzy Osbourne: Zakk Wylde's 'Playing Has Improved Unbelievably' [Interview]
Frazer Harrison, Getty Images
Ozzy Osbourne was the latest guest on Full Metal Jackie's weekend radio program. During the discussion, the Prince of Darkness touched on how he's more blown away than ever by Zakk Wylde's guitar playing, the end of Black Sabbath and the band's influence, not wanting to retire, a potential new solo album and what the future holds. Check out the chat below.
We're so excited to have you. Obviously there's so much happening like when it was announced that Zakk Wylde was playing with you again — such exciting news. He's sort of been your go to guitarist for much of your career. What makes the two of you work so well?
Well I first met Zakk — it's gotta be 30 years, no 20 years, I don't know but when Jake E. Lee and I separated I went on a quest to find another guitar player and I must have had 10,000 resumes and tapes. Believe it or not the only one I picked up was Zakk Wylde. My wife said to me, "You gotta go through these" and I said "I can't go through 10,000 that would be insane after the first hundred."
So the only one I really looked at was Zakk and he had a photo and I thought, "Oh, another Randy Rhoads clone" and when I met him, we just hit it off and he's not like a band member so much as a family member, I mean, we're like family, you know, so it was inevitable that Zakk would do his own thing eventually.
But we have always remained very close friends, we talk to each other, go out socially from time to time. I have just done a few gigs in the last couple of months, his playing has improved unbelievably. My jaw dropped at how good he's got. He has really come on since I have been.
He's an unbelievable guitar player. It's amazing to us.
I'm onstage at a show, we did a show when the eclipse happened the other week, on the eclipse, somewhere in America. [Editor's note: It was the Moonstock Festival in Carterville, Ill.] I don't know where it was but it was playing and I though, "Is that him?" I mean his speed is mind blowing, he is so fast with his fingers on the fretboard.
He is a great guy, he's family!
Compared to when he first joined me to now he is night and day, you know.
Ozzy, Black Sabbath played its final show. Now that it's sunk in, what will you miss about Sabbath?
You know, it's not that I will miss — I mean I was out of Sabbath 35 years 'cause Ronnie James Dio replaced me in 1979 so, the one thing I am happy about is that we all became friends again. I mean it's kind of like a fairytale come true how I got started in an interest in music when I first heard the Beatles and I wanted to be a Beatle, you know. So I went to school with Tony [Iommi], same school as Tony, I was in a band with Geezer [Butler] it is just one of those things, rags to riches, our lives were forever changed.
It was like we ended the Sabbath thing in Birmingham, where we started in England, it was a very emotional time for me and I was — we had gone full circle. I believe there is a video of the last show, it would have been nice to end next year we would have been around for 50 years, I am not retiring though! I mean how can you retire from anything that way — it's not a job, you don't have to work with someone that you don't really want to be around or do any job just for the paycheck. It's fun.
Oh absolutely! I live for it. I can't imagine not doing it, you know.
What do you think you would have been doing if not for Ozzy Osbourne and Black Sabbath?
I would probably be dead or in prison, or both! [laughs]
You touched on The Beatles earlier and I know you're a huge Beatles fan. What did you learn from music by listening to The Beatles?
Well they always had great melodies, you know what I mean? I mean, I appreciate hip-hop, there is no melody, but the lyrics of the hip-hop songs I go "Why can't they put a melody to it?" It's just the thing now, hip-hop, but the Beatles always had great melodies, some of the original context I would go, "What does that mean?" The melodies were the thing that got me.
The Scream record came out six years ago. What's the plan for another Ozzy album and is Zakk Wylde going to be a part of it?
I've got a bunch of songs written, but you don't sell records anymore. It's not cost effective to make a record, but now that — I haven't really thought about it because I've been doing the Black Sabbath thing. We did make a Black Sabbath record with Rick Rubin, 13, which was our first No. 1 both solo and with Black Sabbath, ever in America. When I'd be doing my solo thing our friends of all those years, Metallica... and I'd walk past their dressing room and they'd be playing Black Sabbath. I'd say to my assistant, "Are they taking the piss? Are they joking?" I suddenly started to realize that they were serious about being influenced by Black Sabbath stuff. You don't realize this. It kind of took its own steam.
You have to obviously at this point recognize what a footprint Black Sabbath has made on everything.
Oh yeah! The original Black Sabbath, me Bill [Ward] and Tony. We didn't know back in the '70s what we were doing because I think we got ripped off by every manager under the sun we had. Our lives were forever changed.
Did you ever think that this many years later that Black Sabbath would be in the history books and you'd be touring this many years later?
None of us had any idea. Tony Iommi is the world's greatest heavy metal writer of the riff. Consider he plays his fretboard with his finger tips, which are fake, he had them chopped off in a factory, he's a great guitar player.
You have such a remarkable career and live an extraordinary life. What would have surprised you most if someone predicted this life when you were a kid?
I would have never believed it. I remember Black Sabbath's first album got into the charts and remember thinking it'll be all right for a couple of years. Here we go, 49 years later I'm still learning. I just do what I do. I don't know what the answer to the question is. If you would have said, "This is your life," if someone had predicted it I would have never believed it. 50 years next year.
Your music defines hard rock and heavy metal. What are you most proud of about your music?
When you write something, you kind of know when you're onto something good. On certain albums I've done, I call them filler songs to finish the album up. It's the surprises that come - I never intended to play one of these filler tracks live but it manages to go, "Why don't you play 'so and so' and 'so and so?'" I go, "Why do you like that?" It's kind of like - when a lot of other people like your good idea, it's a bonus - but then you gotta watch it because your ego can get in the way.
Over the years I've seen so many big fantastic bands and artists come up and I remember going, "We ain't [going] to see the end of this. We're done and then they fall off and we carry on." It's just an amazing career I've had. I can't put it into words. I've always said if my career dwindled to a point it's five drunks in a bar and I'm playing there, I would have pulled the plug a long time ago. It's great, it's good fun. I'm 69 in December. I don't feel 69 and I don't know how a 69 year old guy is supposed to feel.
I think it's amazing that you've done it for this long and you still have passion for it and you still love it.
Believe it or not, I still get incredible stage fright. I've only got one voice and if that goes out, I'm done. But I know — okay, some nights I stand there and go, "Oh I'm not so good tonight, I'm not feeling good." And someone will come up to me and go, "Ozzy you're getting better with age." And other nights I go, "I'm having a great time tonight" and someone will come up and go, "You were all right tonight." So my perspective is sometimes way off track. I just like to give people fun. And whatever it takes going bizarre and defecating on stage, well I wouldn't do that anyway, but when I do a bad show I get really upset because I see myself as one of the guys there with a job and saving my pennies, this is a band, that's a responsibility to give them the best show I can. I get tired, I get colds, flu but I try my best. I don't go, "Wow, I've been doing it 49 years. I really have a respect for my audience.
As someone who has seen Ozzy and Black Sabbath shows forever and never once have I walked away without saying, "Oh my god that was amazing and it was so much fun."
That's what I try to give. I'm still that guy in the crowd that wants to get turned on. Sometimes it's good, sometimes it's not so good but I try to give them my honest hard work.
That is evident for anyone who has seen you perform. Looking forward to potentially new music, maybe next year?
I've got about seven songs, one's called "Mr. Armageddon" and one is called "Crack Cocaine."
Is there going to be a proper Ozzy tour next year as well?
Thanks to Ozzy for the interview. To stay up to date with everything the singer is doing, follow him on Facebook and be sure to follow Black Sabbath as well as the band continues to put out fresh releases concerning their farewell concert among other things. Find out where you can hear Full Metal Jackie's weekend show at this location.
Ozzy Osbourne Albums Ranked
10 Unforgettable Ozzy Osbourne Moments
Get Tickets to the 2017 Loudwire Music Awards