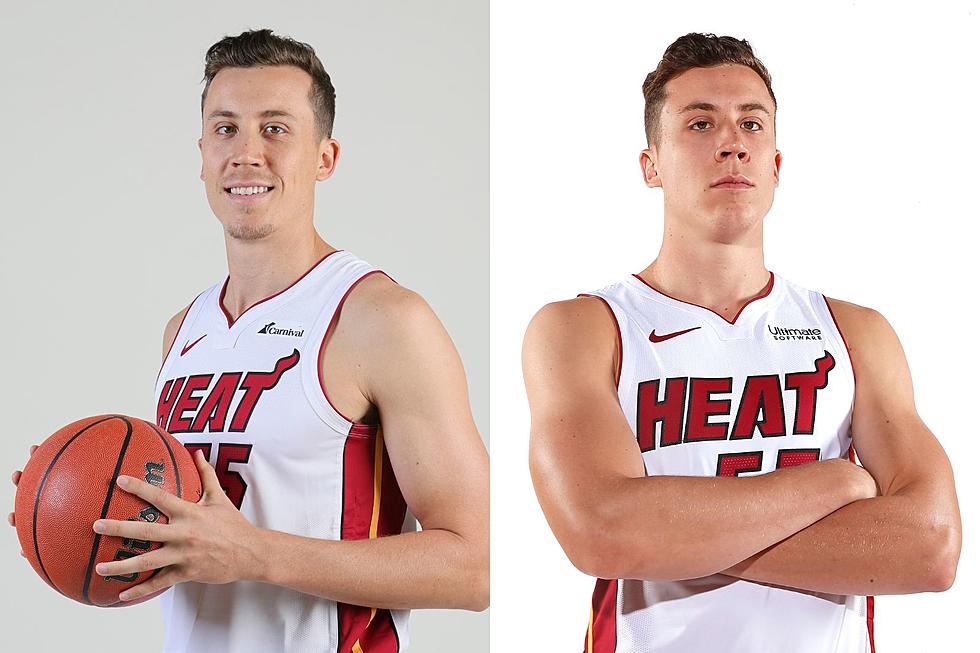 NBA Media Day Shots From York's Duncan Robinson Through the Years
Credit: Sam Navarro / Michael Reaves on Getty
NBA Media Day is kind of like the first day of school, where basketball players gather, enjoy themselves, answer questions, and have their pictures taken. It's casual, intended to bring excitement for the upcoming season, draw attention back to the NBA after a long summer, introduce new faces in new jerseys, and reintroduce fans to familiar players.
The latter is the case for the Miami Heat's Duncan Robinson. This season will mark the New Englander's 6th NBA season, all of which have been with Miami, a rival of our Boston Celtics.
It's worth mentioning that while Robinson was born in York, Maine, he actually grew up in the town of New Castle, New Hampshire.
Nevertheless, we'll still claim him.
As Duncan Robinson embarks on his 6th year in the league, let's take a look at his previous NBA Media Days.
2018 NBA Media Day:
After going undrafted in the 2018 NBA draft, he signed an NBA Summer League contract with the Miami Heat. When the Heat began the season with four injured players, Robinson secured a spot on the official opening-day roster. He made his NBA debut in the Heat's fourth game of the season on October 24th against the New York Knicks.
2019 NBA Media Day: 
During the 2019 off-season, Robinson's contract was solidified with a $1 million guarantee, potentially increasing to $1.4 million if he remained on the roster through midseason. This season marked Duncan Robinson's emergence as an elite three-point shooter in the league. On February 12th, 2020, he achieved his 200th NBA 3-pointer in just his 69th career game, setting a nice NBA record for the fastest player to reach the milestone up until that point. Robinson made his playoff debut this season, eventually playing in the NBA Finals with the Miami Heat, though they lost to the Los Angeles Lakers in six games.
2021 NBA Media Day: 
With the global COVID-19 pandemic impacting various aspects of life in 2020 and the subsequent years, NBA Media Day was not an exception. Therefore, we'll skip over the 2020 NBA Media Day and just transition to the '21-'22 NBA season. On August 6th, 2021, Robinson signed a five-year, $90 million deal with the Heat, setting a new NBA record for the largest contract for an undrafted player at that time.
2022 NBA Media Day: 
On December 26th, 2022, Robinson made his 800th three-pointer in his 263rd game. This made him the fastest player in NBA history to reach 800 career three-pointers. Robinson played a pivotal role in helping the Heat reach the 2023 NBA Finals, although they ultimately lost the series in 5 games to WGME Meteorologist Ryan Munn's favorite team, the Denver Nuggets.
2023 NBA Media Day: 
If you're keen on keeping track of every time the Miami Heat are scheduled to play the Boston Celtics this upcoming season, you can find the comprehensive list here.
The 13 Most Hated Boston Celtics of All Time
Boston's most celebrated franchise has also produced a number of players New Englanders still despise.
Gallery Credit: Jon Rineman
55 Places to Get Great Pizza in Portland, Maine
Looking for pizza tonight? Don't worry Portland has you covered. Try one of these 55 pizza places in Maine's biggest city.
Gallery Credit: Chris Sedenka
20 Musical Acts That Have Played Thompson's Point in Portland, Maine
One of the newer venues in the state, Thompson's Point has attracted bands of all genres to come and take the stage. Here's a look at some of the biggest bands that have performed there over the years.
Gallery Credit: Chris Sedenka