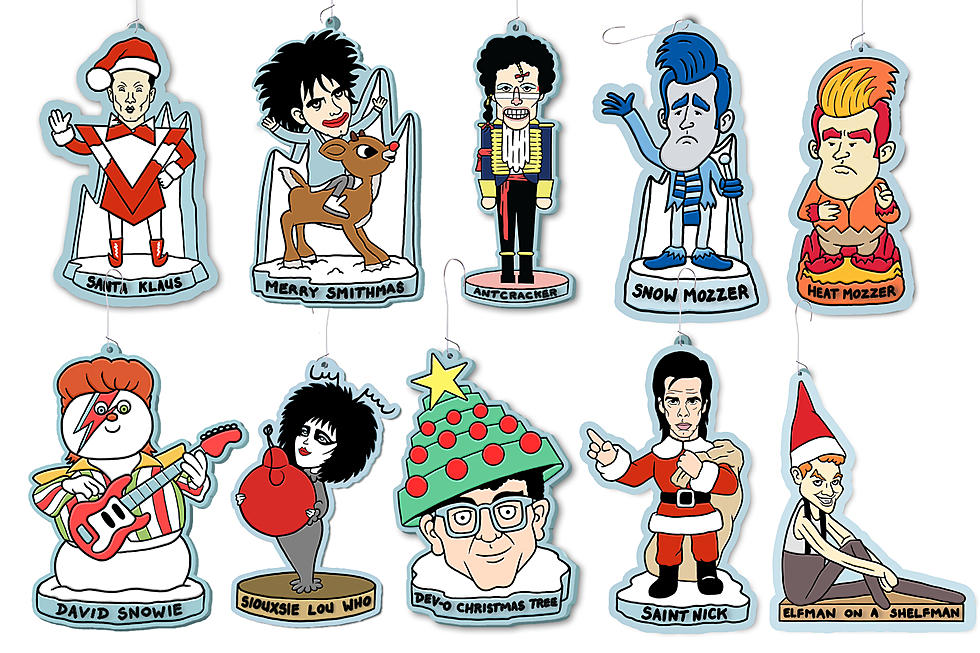 Matthew Lineham, Creator of the 'A Very New Wave Christmas' Ornament Series, on His Festive Artwork: Exclusive Interview
Courtesy of Matthew Lineham
Anyone can decorate their tree with boring old lights or tinsel. But thanks to painter and illustrator Matthew Lineham, holiday decoration options have become far more festive: For the last two years, the New York City-based creative has designed and released a line of "A Very New Wave Christmas" ornaments.
These baubles are often hilarious—for example, "Dave Gahanukkah," a.k.a. the Depeche Mode frontman holding a menorah - and always clever. This year's crop includes The Clash's Joe Strummer with the tagline, "Little Strummer Boy"; "Chilly Idol," a rendering of Billy Idol looking rather frozen; and "Skate Bush," where the U.K. pop icon is pictured ice rink-ready. Last year's series was just as inspired—between "David Snowie," a cheerful snowman with David Bowie's Aladdin Sane lightning bolt across his face, and "Saint Nick," where the jolly old man is Nick Cave.
In addition to his Christmas offerings, Lineham offers '80s-inspired art for Halloween and Valentine's Day, and has put together a series of stained-glass-inspired paintings of new wave icons portrayed as saints. In fact, he's planning to release a new series of perforated new wave valentines in mid-January, and then focus on art for gallery shows and concerts. (For all updates, you can also check out his business Facebook page or Instagram account.)
In between shipping out batches of this year's ornaments, Lineham took time out to answer questions about his favorite new wave artists, how the baubles come together and why he finds this era of music so inspiring.
How did you zero in making new wave ornaments? What was your original inspiration? Why ornaments?
I always try to make things that I wish existed. These ideas just randomly pop into my head, and I'm constantly trying to make simple, fun things that haven't been made yet. I travel and set up at conventions all over the country, and I usually see so many people selling the same thing. I'm honestly just always trying to have products where, if i was a convention-goer, I would immediately be excited. I like the idea of making things like ornaments because they're something most people look for once the holidays come around, but nobody thinks about making them because they're only showcased for one month out of the year.
How far in advance do you plan the ornaments? Do you have a specific brainstorming method you use as you're creating these?
I plan them throughout the entire year. Everywhere I go, I write these bad puns in my iPhone notes and eventually I have enough to pick and choose from. I give myself a deadline to draw them out during the summer and I have a few rules:
1. They can't be the most obvious pun.
2. It has to include something that mixes Christmas pop culture and a new wave/post punk artist.
3. It needs to be a musician that people with a basic knowledge of that genre would understand.
For these reasons, that is why you won't see me making an ornament based on the drummer of Kajagoogoo or whatever else I get strange requests for.
What kind of research do you do before making the ornaments?
I keep a giant notebook full of musicians and Christmas keywords (everything from "sleigh" to movie titles). I do a lot of serious work for galleries and concerts throughout the year, so when I get to make the ornaments, it's honestly just a fun thing I like to get out of my system. It's one of the few chances I get to create in a very free, childish way again.
How long does it take you to make the set of ornaments?
It usually takes a week or two to draw them out. And then the following few months are spent working with my manufacturers to get them made.
The response to these ornaments from the public has been rather impressive. Why do you think they've resonated with people?
I like to think they're stupid fun things that make people smile. They're something nobody knew they wanted until they saw it. I get a lot of crazy reactions like, "Oh my God, I need these now!" Christmas is already corny and ridiculous, so making something like a "Chilly Idol" ornament for your tree seems to fit right in. I also think there are so many products made for people that like whatever is popular right now. If you want a Beatles ornament, there are probably hundreds of them online. But what about people like me who want to celebrate the holiday season with Nick Cave on their tree?
Do you know if any of the bands/artists you've featured have seen your ornaments? If so -- what do they think of them?
A few of them have, but I hear that through their family members or friends who usually purchase them as a gift. I hope they like them! I try to make these as a fan and not come across like I'm making fun of my favorite musicians. I only want to put more of their image into the world.
A lot of your work focuses on new wave and alternative artists. What is it about that era that resonates with you?
That era of music is perfect to me. You had these kids growing up listening to the songwriting of bands like the Beatles and the Stones mixed with the visual and songwriting influence of Bowie, and it all just came together at a time when sound production was at its best. (Find me a better-sounding album than Sowing The Seeds of Love by Tears For Fears.) You had disco, punk and glam, and suddenly everybody started mixing those sounds with great songwriting.
You also had every band fighting to get known through a different image. It's the only ten years in music history where you can find bands like Adam and the Ants, Talking Heads, Devo and the B-52s all playing at the same time. It's completely insane, and I still get overly excited just thinking about it! Everything at that time in history fell into place, making it possible for these bands to exist.
What's your favorite new wave act, and why?
Tears for Fears are my favorite band of all time. I've never gotten sick of their music, and if you meet somebody that doesn't like "Everybody Wants to Rule The World," they're lying. I think the only thing that stopped them from being the Beatles of the '80s was the fact that they only had a few albums because of their falling out. Songs from the Big Chair is my favorite album of all time, and Sowing the Seeds of Love is my favorite-sounding record of all time.
Why are new wave/alternative artists such interesting subjects for artistic/creative work?
Every artist from that time period had their own persona. They were like musical superheroes. Cyndi Lauper, Boy George, Billy Idol, Siouxsie Sioux and Adam Ant all looked like works of art, but the music was still good. Their look never felt like a gimmick to me. I love so much new music, but if you think about a series of paintings including today's musicians, it wouldn't be nearly as exciting and colorful as that new wave time period in music.