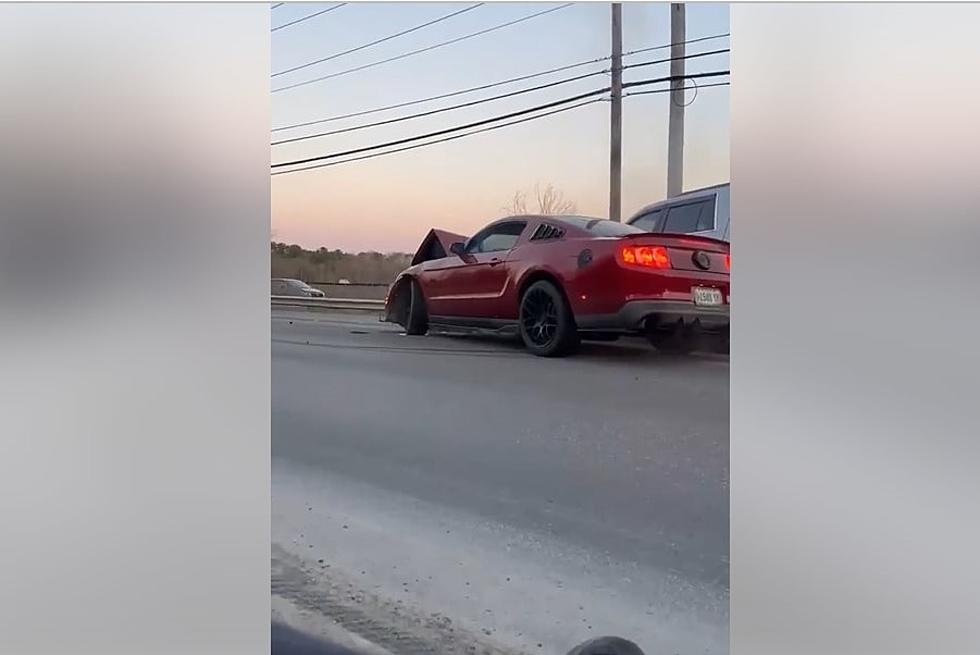 Teen Crashes Parents' Mustang after 'Burnout' near Cascade Park in Bangor
Jon King
A 17-year-old boy crashed his parents' Ford Mustang Friday after attempting a "burnout" near Cascade Park in Bangor, according to police.  The teen now faces charges.
A few videos of the crash made their way across social media platforms by Friday night. Below is a video provided to us by Jon King.
According to Sgt. Jason McAmbley, Public Information Officer for the Bangor Police Department, it was just after 7 PM, Friday night, when a 17-year-old boy driving a 2010 Ford Mustang, registered to his parents, crashed into a 2017 Chevy Tahoe that was traveling along Route 2 toward Veazie.
"The male over-accelerated to do a burnout, lost control, crossed the center line, and hit another vehicle."
McAmbley said the minor will face some charges for the move, including "Driving to Endanger, Failure to Maintain Control of a Motor Vehicle, and Failure to Display a Current/Valid Certificate of Inspection."
Area car club, Bangor Car Meets, addressed the crash later on in the weekend, taking to its Facebook Page to remind people that in this situation, the individual did not follow the rules:
NO BURNOUTS, NO REVVING/2-STEP, NO LOUD MUSIC
They explained that those rules exist to prevent situations like the one that took place over the weekend from happening at all. And while they'd like to believe the boy learns from his mistake and the consequences that resulted from the decisions he made and the action he took, they hope he and everyone else, can move beyond it.
"At Bangor Car Meets we do not condone the behaviors of the young man and yes we are in fact very disappointed and frustrated beyond belief...On Bangor Car Meets end it goes without saying that in the future this individual will not be allowed at meets in the future.  It also goes without saying that meets will be taking a hiatus until we can find further ways to ensure the safety of not only our meets but now the surrounding areas outside of meet grounds."
Neither the occupants of the Mustang nor the occupants of the car it collided with were injured in the crash.
King's video even made it to a Drew Peacock compilation of automotive blunders called the 'Car Darwin Awards." It can be seen at the 4:45 mark.
"I don't know why anybody would try to do that on a two-lane road," Peacock said in his commentary. "That's just dumb."
Top Ten Worst Bangor Intersections for Car Crashes
With a whole lot of help from the Maine Department of Transportation, we thought we'd dig up the facts and figures of intersection car crashes within the City of Bangor between 2019 and now.