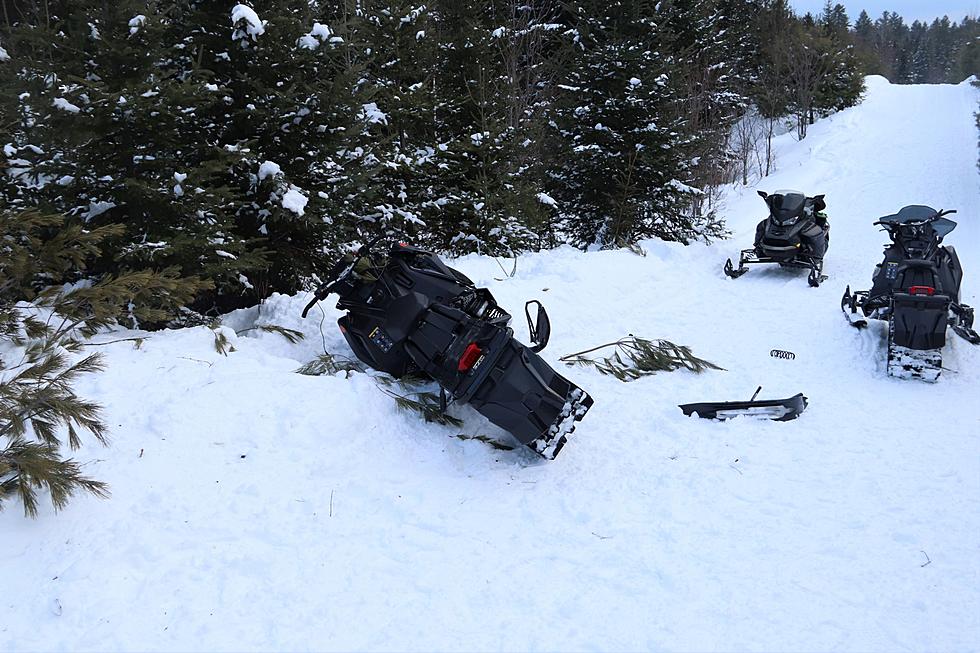 Massachusetts Man Dies in Aroostook County Snowmobile Crash
Maine Warden Service
The Maine Warden Service is investigating a crash involving three snowmobiles on Saturday in Aroostook County that claimed the life of a Massachusetts man.
The crash occurred at around 2:20 p.m. on ITS 85 in Oxbow, according to Warden Service spokesperson Mark Latti. The initial investigation indicates that 57-year-old Darryl Sittler of Chelmsford, Mass. was traveling north on the trail on a 2023 Ski Doo Renegade and was followed by his wife, who was driving her own snowmobile.
Three snowmobiles collide at a rise in the trail in Oxbow, Maine
Wardens say a group of three other snowmobilers was traveling south on ITS 85 towards Sittler. Two of the snowmobiles, driven by 20-year-old Scout Sylvester and his brother, 23-year-old Jack Sylvester, both of Greene, Maine collided with Sittler's sled near the crest of a rise in the trail, Latti said in a news release Monday.
Darryl Sittler passed away at the scene. The crash heavily damaged all three snowmobiles.
One of the snowmobilers was treated at a Presque Isle hospital
Scout Sylvester was transported to Northern Light A.R. Gould Hospital in Presque Isle where he was treated for an injury to his hand and released. The Maine Warden Service shut down the snowmobile trail for about three hours to investigate the crash, Latti said.
The Warden Service was assisted at the scene by Ashland Ambulance, Masardis Fire Department, Maine State Police and the Aroostook County Sheriff's Office.
This article will be updated as we receive further information.
The area was a few miles north of a snowmobile crash in mid-February that claimed the life of a Millinocket man.
Where Were You? 25 Mainers Share Stories of the Ice Storm of 1998 on Its 25th Anniversary
On the MaineDOT Facebook page, several Mainers recalled their memories of this epic storm. Here are 25 of them.