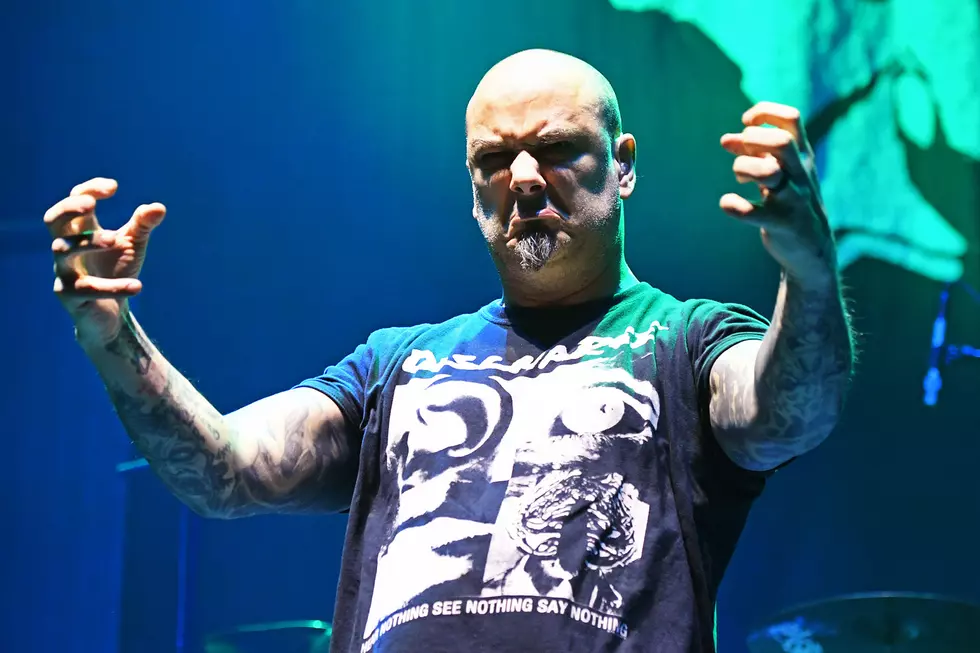 Pantera Removed From German Rock Festival Bills
Ethan Miller, Getty Images
The newly reformed Pantera has been removed from the bills of two upcoming rock festivals in Germany.
The band was scheduled to appear at Rock am Ring and Rock im Park, both of which take place during the first weekend in June in Nurburgring and Nurnberg. The group has now been scratched from the lineup. (Other acts scheduled to appear at the festivals include Limp Bizkit, Kings of Leon, Tenacious D, Bring Me the Horizon and Machine Gun Kelly.)
"In the last few weeks, we have had many intensive conversations with artists, our partners and you, the festival fans, we have continued to deal with the criticism together and decided to remove the band from the program," reads a statement posted to the festivals' Facebook pages.
The backlash stems from an incident that occurred in 2016 when singer Phil Anselmo reportedly gave a Nazi-style salute and said "white power" while performing at "Dimebash," an event held in honor of late Pantera guitarist "Dimebag" Darrell Abbott. At the time, Anselmo claimed he was joking about the white wine he had been drinking backstage and later released a statement apologizing.
"Anyone who knows me and my true nature knows that I don't believe in any of that," he said. "I don't wanna be part of any group. I'm an individual and I am a thousand percent apologetic to anyone that took offense to what I said because you should have taken offense to what I said. And I am so sorry, and I hope you just … man, give me another chance to … just give me another chance." Three years later, in 2019, Pantera's appearances at two New Zealand concerts were canceled because of the 2016 incident.
A few weeks ago, the German Green Party for the Nuremberg City Council released a statement, saying that Anselmo "repeatedly and deliberately displayed Nazi symbols or yelled racist slogans."
They asked organizers of the upcoming festivals to remove the band from their schedules. "The former Nazi Party Rally Grounds is a place of perpetrators and thus a place of admonition," they wrote. (Rock im Park takes place at Zeppelinfeld, where six Nazi party rallies were held between 1933-38.) "As a place of learning and remembrance, Nuremberg's citizens and actors in educational work and civil society always take on the special responsibility associated with this. Only signs of human dignity and peace should emanate from here, as our self-commitment in the Nuremberg City Council also states."
Pantera has also come under fire for their reunification, too, with some fans lamenting the absence of the late Abbott brothers, Dimebag Darrell and Vinnie Paul. (The band's current lineup includes classic-era members Anselmo and bassist Rex Brown, plus guitarist Zakk Wylde and drummer Charlie Benante.) Last year, Vinnie Paul's estate released a statement that dismissed the upcoming tour as a proper reunion. "There can never be a Pantera reunion without Vinnie and Dime," it said (via Louder Sound). "However, there is no better way to celebrate and honor Vinnie and Dime's legacy, than to bring the music of Pantera directly to the fans. We are honored that Charlie and Zakk, their very close friends and musical brothers, will share the stage with Philip and Rex, to unleash the power of Pantera live around the world."
Pantera's next live appearances are scheduled to take place in March at the Loud Park Festival in Japan.
2023 Classic Rock Music Festivals and Cruises
With so many options, there's an event for everybody.