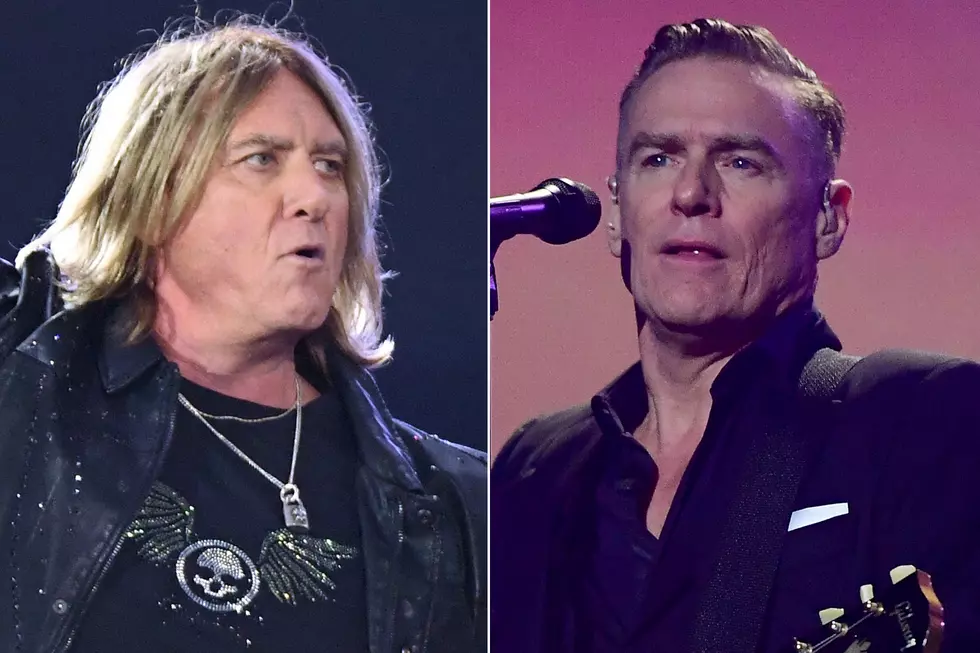 Joe Elliott Says Bryan Adams Could Easily Be Def Leppard's Singer
Ethan Miller / Harry How, Getty Images
Joe Elliott said Bryan Adams could easily be the singer in Def Leppard and admitted he "mouthed off" too much when he felt Adams' 1991 album Waking Up the Neighbours sounded too much like his own band.
In a new interview on The Mitch Lafon and Jeremy White Show (which you can watch below), Elliott discussed his feelings about the arrival of Neighbours after his own band had established a similar sound with producer Robert John "Mutt" Lange, who worked with both artists.
"I got into trouble with this one," Elliott said. "I thought it sounded a bit close to the bone. Bryan was a bit pissed off with me – and fair play to him, he should have been."
Def Leppard was no stranger to comparisons, as Elliott noted their sophomore album High 'n' Dry sounded like AC/DC, whom Lange also produced.
"What you've got is ... the same producer, possibly using the same engineer, in the same studio," he explained. "When we did High 'n' Dry, Mutt put Rick [Allen]'s drums exactly where Phil Rudd's drums were, using the same mics to mic them up. We probably used the same cabs and amps that Angus and Malcolm [Young] used that Steve [Clark] and Pete [Willis] used. So there's going to be a thing where somebody says High 'n' Dry sounds like Highway to Hell. Well, touche — it does."
Watch Joe Elliott on 'The Jeremy White and Mitch Lafon Show'
Elliott admitted he "mouthed off a little too much, and I've apologized profusely to Bryan many times since. But I mean, that's the Mutt Lange factor. Bryan Adams could easily be a member of Def Leppard; he could be the singer of Def Leppard. There's a cross-pollination because he's a pop-rock artist and he worked with the same producer that we did. And we're a pop-rock band."
The singer also conceded that "eras do sound similar," adding: "You put on a '60s CD and there's loads of bands that sound like the Beatles. You put on a '70s CD and there's loads of bands that sound like Zeppelin or [Deep] Purple or whatever. And in the '80s it got ridiculous."
Elliott insisted his issue with Neighbours didn't detract from its musical merit: "I was probably a little bit jealous that some of those songs weren't on our album!"
Def Leppard Albums Ranked
From their metal-edged debut to their pop breakthrough to the recent records, we rank every single LP.