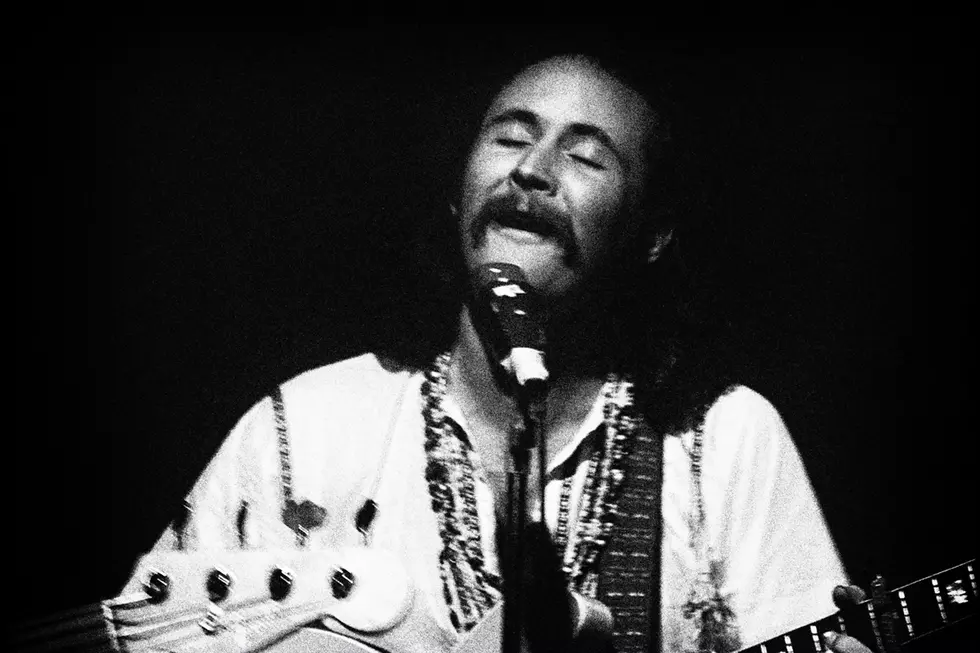 David Crosby Dies: Rockers React
Michael Ochs Archives, Getty Images
The death of David Crosby has opened the floodgates to a wave of tributes and remembrances from his musical friends and admirers.
A founding member of both the Bryrds and Crosby, Stills and Nash, Crosby died at age 81 after battling an undisclosed illness.
One of the first to react to the sad news was Crosby's longtime bandmate Graham Nash. Although the two have been largely estranged in recent years, Nash was quick to celebrate the good times they had together.
"I know people tend to focus on how volatile our relationship has been at times, but what has always mattered to David and me more than anything was the pure joy of the music we created together, the sound we discovered with one another, and the deep friendship we shared over all these many long years," he wrote on Facebook. "David was fearless in life and in music. He leaves behind a tremendous void as far as sheer personality and talent in this world. He spoke his mind, his heart, and his passion through his beautiful music and leaves an incredible legacy. These are the things that matter most."
"He gave me the gift of family," Melissa Etheridge tweeted. The two musicians were longtime friends, and Crosby served as the sperm donor for two of Etheridge's children. "I will forever be grateful to him, Django, and Jan. His music and legacy will inspire many generations to come. A true treasure."
Crosby's other CSN partner, Stephen Stills, issued the following statement: "I read a quote in this morning's paper attributed to compose Gustav Mahler that stopoed me for a moment: 'Death has, on placid cat's paws, entered the room.' I shoulda known something was up. David and I butted heads a lot over time, but they were mostly glancing blows, yet still left us numb skulls.. I was happy to be at peace with him. He was without question a giant of a musician, and his harmonic sensibilities were nothing short of genius. The glue that held us together as our vocals soared, like Icarus, towards the sun. I am deeply saddened at his passing and shall miss him beyond measure."
Other peers and collaborators paying tribute to Crosby include David Gilmour, Jason Isbell and Brian Wilson. You can read their messages and many others below.
In Memoriam: 2022 Deaths
A look at those we've lost.