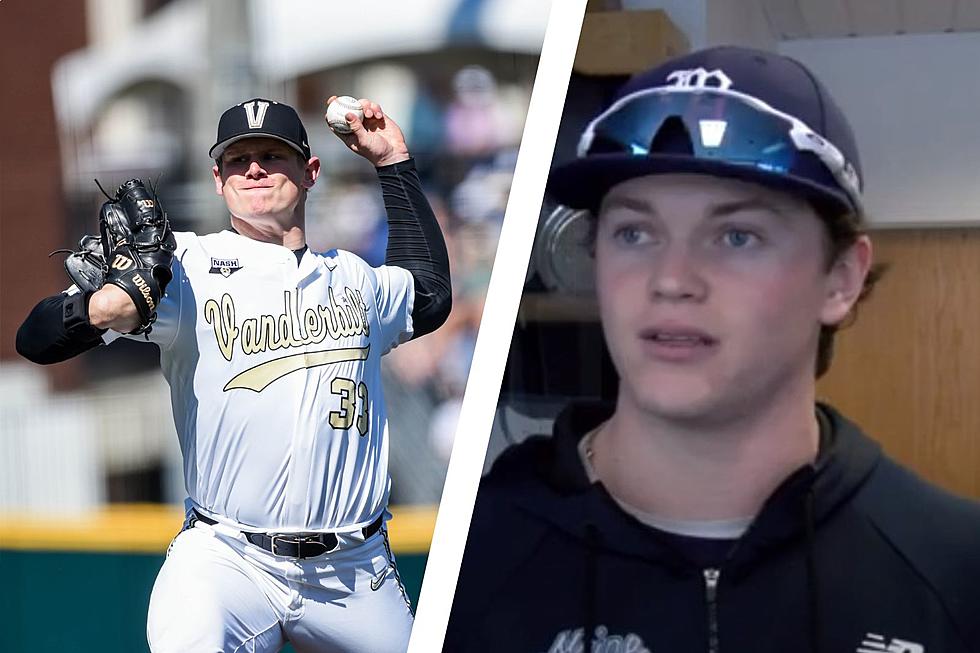 Dream Continues for Two Mainers Selected in the MLB Draft
Getty Images, My Fox Maine via YouTube
Every year during the Major League Baseball Al-Star Break, teams get together for the annual Amateur Draft. It's the time of year when young men across the country stare at their phones in hopes of getting a call from a team to tell them that all of their hard work and dedication has paid off. For two Mainers, that's exactly what happened.
Hunter Owen
Quinn McDaniel
Owen was drafted in the 4th Round by the Kansas City Royals. He was the 106th overall pick. The South Portland native played collegiately at baseball powerhouse Vanderbilt University. The lefty pitcher started 12 games in his final season with the Commodores, going 4-0 with a 3.52 ERA. This included 76 strikeouts in 64 innings of works. That's one heck of a stat.
McDaniel wouldn't have to wait much longer, as the Eliot native got to hear his name called in the 5th Round. The San Francisco Giants would select the UMaine Black Bear with the 153rd overall pick. McDaniel, a second basemen, was one of the leaders on a Maine team that reached NCAA Postseason play in 2023. He would finish the season hit .354 with 16 HR, 46 RBI, and a very impressive 1.201 OPS. It was a standout career at Maine that certainly paid off.
Both Owen and McDaniel will likely be suiting up very soon, as most rookies head right to lower-level minor league teams within their respective organizations. Whether its rookie ball or Low-A, both will get to start their professional careers in hopes of one day making the big leagues, like Mike Bordick, Ryan Flaherty, Billy Swift, and others from our great state were able to accomplish before them.
It's always exciting to watch Maine athletes make it on the big stage. From gold medalists to elite basketball prospects, Maine continues to pump out high-class athletes to prove to the country that the Pine Tree State is here to be reckoned with.
Congrats once again to these two. What an honor it is to be selected by a professional team. I wish them both the very best of luck in their journey up the ladder.
20 of the Most Popular Chain Restaurants That Maine Doesn't Have
From popular buffets to trendy burger and chicken joints, here are 20 of the most chain restaurants that don't exist in Maine.