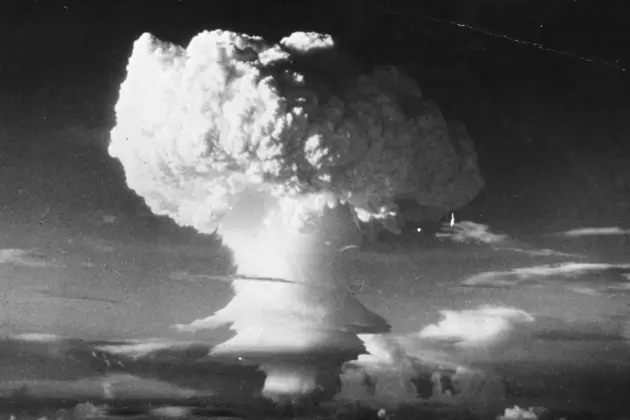 Hulton Archive, Getty Images
We live in tumultuous times. The political – not to mention the meteorological — climate has us all wondering what's next on the horizon. Many Americans even wished for a meteor to hit the Earth during the 2016 electoral season.
Have we taken things too far? Will we all be punished in the end of days? We don't have the answers to these questions, but we do have a long list of songs to take your mind off of off the daily drudgery, while, well, listening to your favorite artists sing about the apocalypse. We know, we're helpful.
From tales of genuine apocalyptic dread like the Clash's "Armagideon Time" to those whose heartaches might as well signal the end, like Ryan Adams on "Doomsday," a song presumably about his divorce, these tracks are some of our favorite looks at doomsday.
How'd we do? Did we miss your favorite sad sack, let-it-all-end tunes?
"It's the End of the World As We Know It (And I Feel Fine)" (1988)

R.E.M

The stream-of-consciousness punk-pop nod to Bob Dylan's "Subterranean Homesick Blues" certainly didn't spell the end of days for R.E.M. In fact, "It's the End of the World As We Know It," a 1988 staple of R.E.M.'s catalog became quite the cash cow in 2012, as we all anticipated the Mayan's flawed doomsday prediction. The song, which Michael Stipe based in part on a dream, saw a bump in sales of 612 percent that year.

"Until the End of the World" (1991)

U2

Rife with Biblical references, the Achtung Baby song begins with the Last Supper, and leaves us with Judas waiting on his ultimate judgment after betraying Jesus. U2 wrote the song — which can double for any relationship-gone-south saga — for the 1991 Wim Winders sci-fi film of the same name, a box-office flop with a hit soundtrack. "I kissed your lips and broke your heart / You / You were acting like it was the end of the world," Bono sings.

"Five Years" (1972)

David Bowie

The Rise and Fall of Ziggy Stardust and the Spiders From Mars opens with "Five Years." "News had just come over / We had five years left to cry in / News guy wept and told us / Earth was really dying," David Bowie sang about a time period that was also based on a dream. The record turned Bowie into a star, and his career continued to thrill audiences for another 40-plus years until after his death in 2016.

"4th of July" (1994)

Soundgarden

According to Soundgarden frontman Chris Cornell in a 1994 interview with RIP Magazine, "4th of July," the apocalyptic song based in religious imagery like "Jesus tries to crack a smile / Beneath another shovel load," was inspired by an acid trip. "You wouldn't get that if you read it. It doesn't read like, 'Woke up, dropped some acid, got into the car and went to the Indian reservation," he said. But now that he mentions it...

"Idioteque" (2000)

Radiohead

A mainstay of Radiohead set lists, "Idioteque" was built around a snippet of a long recording by Radiohead guitarist Jonny Greenwood. Frontman Thom Yorke's lyrics may denote a natural disaster (perhaps an environmental issue), a technological breakdown or a war, with its vivid imagery of bunkers and ice ages. "Who's in a bunker / Who's in a bunker / I have seen too much / I haven't seen enough," Yorke wrote, without ever explaining it's meaning. He adds in a subsequent verse, "We're not scaremongering / This is really happening."

"Doomsday Clock" (2007)

Smashing Pumpkins

When Smashing Pumpkins arguably reunited for 2007's Zeitgeist, the opening track set you up for what was in store. "Doomsday Clock" is a classic tale of apocalyptic alienation, with frontman Billy Corgan pleading "Please don't stop / It's lonely at the top / These lonely days / Will they ever stop / This doomsday clock ticking in my heart / These lonely days will they ever stop."

"Everyday Is Like Sunday" (1988)

Morrissey

From Morrissey's debut solo record, Viva Hate, "Everyday is Like Sunday" was inspired by by Nevil Shute's apocalyptic novel On the Beach, about anticipation of a nuclear devastation in Australia. Moz sings "This is the coastal town / That they forgot to close down / Armageddon, come Armageddon!"

"Survivalism" (2007)

Nine Inch Nails

"Survivalism" was Nine Inch Nails' lead single off of 2007's Year Zero, an album that envisions an imminent dystopian future after the U.S. survives a nuclear war with Iran. With typically dark lyrics, Trent Reznor sings "Hypnotic sound of sirens / Echoing through the street / The cocking of the rifles / The marching of the feet / You see your world on fire / Don't try to act surprised." They preceded this with another cheery one with "The Day the World Went Away" back on 1999's The Fragile.

"Waiting for the End of the World" (1977)

Elvis Costello

"Waiting for the End of the World," from his hit debut album My Aim Is True has Elvis Costello musing on God's plans. "Waiting for the end of the world / Dear Lord, I sincerely hope you're coming / 'Cause you really started something," he sings.

"Armagideon Time" (1979)

The Clash

Originally released in 1978 by reggae artist Will Williams, the Clash covered "Armagideon Times" the following year as the B-side to their single "London Calling." The Clash famously played the song at the Concerts for the People of Kampuchea, with its bleak look at the end of days: "A lot of people runnin' and hiding tonight / A lot of people won't get no justice tonight / Remember to kick it over / No one will guide you / Armagideon time."

"Invisible Sun" (1981)

The Police

Sting, frontman for the Police, wrote "Invisible Sun," a single from Ghost in the Machine "in Ireland, where I was living at the time. It was during the hunger strikes in Belfast. I wanted to write about that but I wanted to show some light at the end of the tunnel. I do think there has to be an 'invisible sun.' You can't always see it, but there has to be something radiating light into our lives," he told Revolver. You can hear its inspiration in the first verse with "I don't want to spend the rest of my days / Keeping out of trouble like the soldiers say / I don't want to spend my time in hell / Looking at the walls of a prison cell." 


Prince's fears of nuclear war are as relevant today as they were when, during the Cold War, he released "1999." "Everybody's got a bomb / We could all die any day," he sings. Having rejected what the Seventh Day Adventists he grew up with, calling it a fear-fueled religion, he offers his own take on Judgement Day, with a more positive spin. "I was dreamin' when I wrote this so sue me if I go too fast / But life is just a party and parties weren't meant to last / War is all around us, my mind says prepare to fight / So if I gotta die, I'm gonna listen to my boy tonight." 

On "Skyfall," Adele's theme for the James Bond movie of the same name, she sings "This is the end / Hold your breath and count to 10 / Feel the earth move and then / Hear my heart burst again." Sure, that might sound more appropriate for a sex scene, but things get a little murkier when she adds, "Skyfall is where we start / A thousand miles and poles apart / Where worlds collide and days are dark."

"Doomsday" (2017)

Ryan Adams

Found on Ryan Adams' Prisoner, "Doomsday" is less about the end of the world, and more about how a broken heart feels like the end of the world. Decreed Adams' divorce album, he sings "My love, we can do better than this / My love, how can you complicate a kiss / My love, you said you'd love me now 'til doomsday comes."

"Earth Died Screaming" (1992)

Tom Waits

"Earth Died Screaming" paints a grim picture on Tom Waits' fire-and-brimstone album Bone Machine, which either offers listeners a gruesome last-chance warning about the impending apocalypse, or depicts the devastation of love lost, with a chorus of "Well the earth died screaming / While I lay dreaming of you." 

"The End of the World" (2004)

The Cure

From the Cure's self-titled album, "The End of the World" is, for a change, not about the, you know, actual end of the world. Instead, it's part of the runner-up category of songs about fractured love that feel like the world is ending. "Maybe we didn't understand / Not just a boy and a girl / It's just the end of the / End of the world," seems pretty morose for a couple they seems to have equally fallen out of love, but hey, what else could you expect from the Cure.

"Apocalypse Song" (2007)

St. Vincent

What good is a Doomsday list without a song that's actually entitled "Apocalypse Song"? St. Vincent to the rescue. "I tend to draw on religious mythology because it's so ubiquitous. I'm definitely interested [in religion] in an intellectual sense," she said in 2015, and that remains clear in this song where she's possibly even mocking religious beliefs with "So take to the streets with apocalypse refrain / Your devotion has the look of a lunatic's gaze."

"Down to the Wire" (2009)

Son Volt

"The intrigues of the new royalty / And the believers / In the afterlife / Share the same gamblers pages," is the imagery that littered Son Volt's American Central Dust in 2009, on a fairly calm but pessimistic view of the end of days.

"Doomsday" (2000)

Monster Magnet

On an album appropriately titled God Says No, Monster Magnet's "Doomsday," proclaims "It's doomsday, it's doomsday / It's closing round my head / It's forcing tumors down my throat / It's tucking me in bed," on a track that, taken literally, is a angry ode to an ex.

Eels began releasing a trilogy of concept albums in 2009 -- Hombre Lobo. End Times and Tomorrow Morning -- which explored themes of things wanted, things lost and challenges accomplished. End Times' title track, like many songs on this list, is about the end of a relationship, as we learn with the lyrics, "She is gone and nowhere near / End times are here."

"We Will Become Silhouettes" (2005)

The Postal Service

Here's another tune about a broken heart that lures its narrator into a level of isolation that mimics a perceived apocalypse, with the deeply distressing lyrics, "I've got a cupboard with cans of food / Filtered water, and pictures of you / And I'm not coming out until this is all over / And I'm looking through the glass / Where the light bends at the cracks / And I'm screaming at the top of my lungs / Pretending the echoes belong to someone."

"Fujiyama Mama" (2011)

Wanda Jackson

The Rockabilly Queen Wanda Jackson is not one to mess with. In her less-than politically correct 2011 track — a cover of a 1955 R&B song by Annisteen Allen, she makes it clear that her passion is just as dangerous as a nuclear explosion, and can cause just as much damage. She croons, "I've been to Nagasaki, Hiroshima too! / The things I did to them baby, I can do to you!," later adding "Well you can talk about me, say that I'm mean! / I'll blow your head off baby with nitroglycerine!"