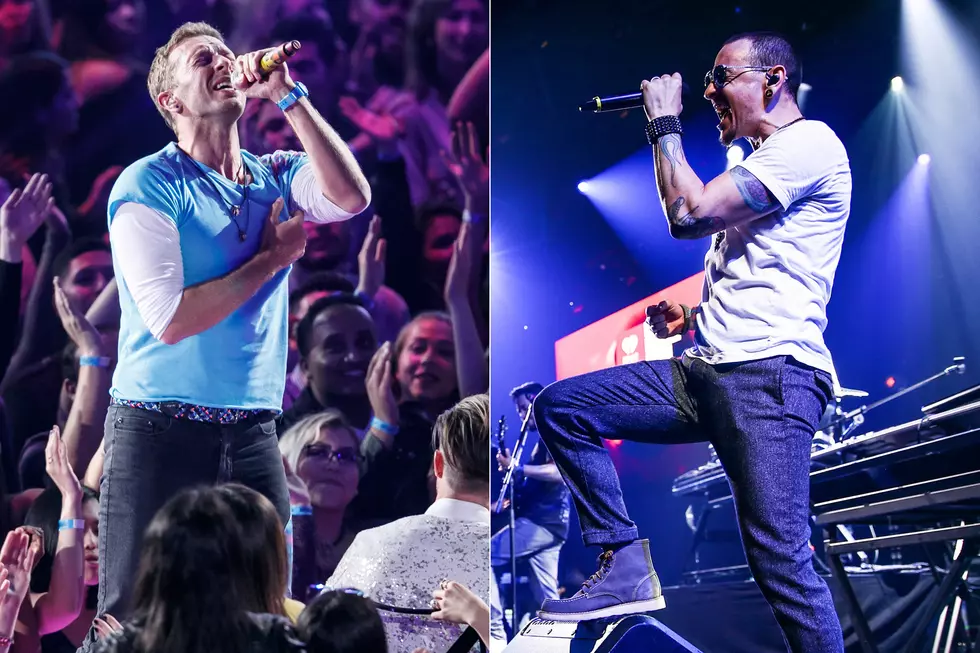 Coldplay's Chris Martin Covers 'Crawling' in Tribute to Linkin Park's Chester Bennington
Rich Polk / Rich Fury, Getty Images
On the first night of their latest North American tour, Coldplay's Chris Martin performed a solo tribute to Linkin Park and the late Chester Bennington, who passed away last month at the age of 41.
Kicking off their "A Head Full of Dreams" tour in East Rutherford, N.J. Tuesday night, Coldplay paid tribute to Bennington and his bandmates with a cover of "Crawling," which Martin delivered as a stripped down solo version on the piano. Linkin Park's Mike Shinoda was in the audience, and posted a recording of the cover on his social media, saying simply, "Thank you Coldplay. It sounded beautiful."
After a false start, Martin commented that he figured the song would end up on YouTube, so he wanted to get it right and began to play it again from the top. Fans did record the song and uploaded it to YouTube, with one of the fan-shot clips being seen above. Martin dedicated the song to "anyone who is missing someone."
Linkin Park and Blink 182 were slated to co-headline a show in the New York area just days before Coldplay's show, but the tour was cancelled following Bennington's passing.
Bennington stunned fans and colleagues alike last month when he committed suicide, leaving behind a wife and six kids, his bandmates and millions of heartbroken fans. In the aftermath of his death, Linkin Park bandmates set up a website for suicide prevention and support as well as fan tributes to Bennington.  If you or a loved one are in crisis, do not hesitate to call for support right away at 1 (800) 273-TALK.
Chester Bennington: A Photographic Look Back Through the Years
10 Unforgettable Chester Bennington Moments