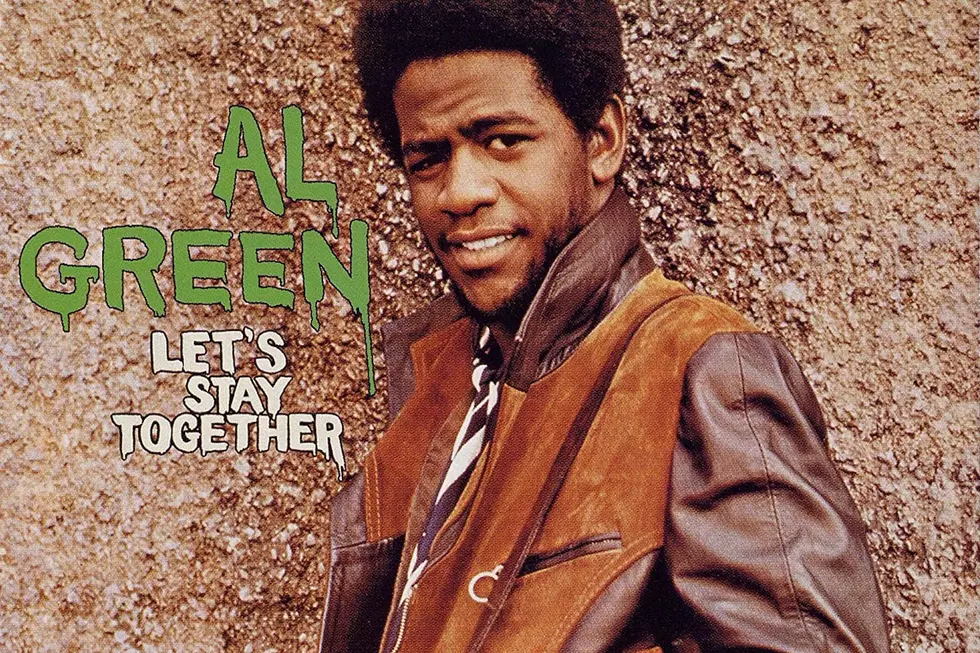 50 Years Ago: Al Green Finds Himself With 'Let's Stay Together'
Hi Records
Willie Mitchell had already produced two transitional albums for Al Green when Let's Stay Together arrived on Jan. 31, 1972. "Tired of Being Alone" was his biggest hit to date, but Green hadn't cracked the pop Top 10.
Everything finally came together on the title track for the LP. But it took them "100 and some hours to put the song on tape," Mitchell told NPR in 2000, "because Al was saying, 'What do you want, man?' I said, 'Well, I want you.'"
At this point, however, Green was still trying to mimic the era's standard paint-peeling shouters like Otis Redding. "I'm in there trying to blow the studio top off, and while Willie kept saying, 'No, just say it,' I'm going, like, 'I think I need to muscle up and sing it,'" Green told NPR. "He said, 'Don't try to handle the song, Al. Just let the song happen - just let it happen. Just let it ooze out.'"
Once he did, "Let's Stay Together" helped Green popularize a more tenderhearted blend of gospel and R&B, the sexual and the sacred. He rode this new sound to the top of the soul charts and then the pop charts, as well. Mitchell arrived at this process as a Memphis jack-of-all-trades. He played trumpet and had notched a couple of minor R&B hits as a bandleader. He was a songwriter, producer and label head for Hi Records, a friendly rival to crosstown Stax.
They met in 1968 when Green opened for one of Mitchell's shows in Midland, Texas. Mitchell invited him back to Memphis, with the promise of stardom. But "Let's Stay Together" wouldn't soar up the charts for a few more years.
Listen to Al Green's 'Let's Stay Together'
Set up at the Royal Recording Studio, Mitchell sketched out the song's chords while Green took about 15 minutes with the lyric. Then came the hard part: Green hadn't quite mastered a voice that could articulate seemingly endless shades of feeling, with often unmatched control of emphasis and pitch.
But he had the right producer. He had the right band, too: Royal featured a regular lineup of musical collaborators, rather than the rotating sessions guys typically favored by soul stars. And, perhaps most important of all, he had the right microphone.
"When I first got Al to come into the studio," Mitchell told The New Yorker in 2003, "I knew he was special, and I knew I had to be perfect to capture it. So I tried to use all kinds of mics for his voice. And when I heard him on No. 9, I said, 'Oh, my God, this is the real thing.' I put numbers on the mics we used that day, so I could keep track of them. At least I think that's why I put numbers on them — I was drinking vodka. But when I got to this one, I put a nine on it."
They gave "Let's Stay Together" a try, then ended up recording take after grueling take. "I was trying to sing like Jackie Wilson and Sam Cooke and Wilson Pickett," Green told The New York Times in 2003. "He said, 'Sing like Al Green.'"
Finally, they got there. "I wanted this golden voice on it, and he kept giving me somebody else's voice," Mitchell told NPR. "And that's why we kept going over and over and over and over again. When he nailed it, I said, 'That's the one.'"
The RCA 77DX ribbon microphone, familiar to anyone who watched David Letterman or Larry King on TV, is incredibly sensitive. No. 9 could capture every murmur and squeal, while still conveying the ecstasy of Green's love-struck yelps.
He could finally be himself.
Listen to Al Green's 'How Can You Mend a Broken Heart'
"I'm not learned in sound, but I know that we got some magic going," Green told The New Yorker. "Like on 'Ayyyyyyyyye, I'm so in loooove with yooouuuuu.' I sing like that, in his studio on that mic, and Willie tells me, 'Now, that's what Al Green sounds like. Damn.' 'Let's, let's stay together. Lovin' you whether, whether times are good or bad, happy or sad.' Now, that's Al Green."
They had their title and album-opening song, a winking whisper in the ear whereas anybody else would have borne witness in a louder, more over-sexualized way. The rest of Let's Stay Together is still a bit more uneven than the classics still to come, with high points that include the groove-driven "I Never Found a Girl," more bluesy "It Ain't No Fun to Me" and an extended centerpiece cover of a Bee Gees favorite from earlier in the '70s. Again, No. 9 proved invaluable. "It has a real romantic sound, a soft, warm sound – like on 'How Can You Mend a Broken Heart?,'" Mitchell told The New Yorker. "When he breathes on the mic, you hear that."
Let's Stay Together roared into the Top 10 on the Billboard pop chart while becoming the first of six No. 1 soul LPs in a row. They'd record a total of 13 Top 40 hits through 1976 when Green left secular music behind for the ministry. By then, Al Green's Greatest Hits was already on its way to double-platinum sales.
It all started with a microphone and this scribbled note of a tune.
"I'm glad my songs bring some kind of happiness to the world," Green told Knight Ridder News Service in 2003. "I always hear things like, 'Let's Stay Together' was our wedding song,' and I love it."
Top 25 Soul Albums of the '70s
There's more to the decade than Marvin Gaye and Stevie Wonder, but those legends are well represented.
When Prince and Richard Marx Met